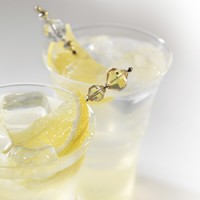 The first written occurrence of a Tom Collins cocktail recipe is found in the 1876 edition of Jerry Thomas' 'The Bartender's Guide', with three variations listed each for whiskey, brandy and gin. It is thought to have first been created in New York slightly earlier, taking its name from the Great Tom Collins Hoax of 1874.
50ml Bombay Sapphire
The juice of half a lemon
100ml Soda water
2tsp Caster sugar
Squeeze half a lemon into a tall glass filled with ice. Stir in two teaspoons of caster sugar and a double measure of Bombay Sapphire. Top up with soda water and give it a good stir. Garnish with a wedge of lemon.
The Bombay Sapphire Collins is a refreshing, light, cocktail that complements and enhances our zesty Moroccan coriander and Spanish lemon peel. Here the balanced bitter and sweet ingredients allow the bright, citrus flavours of the Bombay Sapphire to harmonise with the fresh lemon to create a delicious refreshing cocktail.