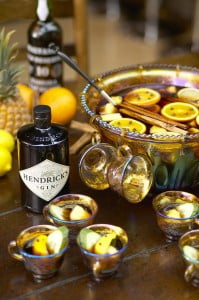 Those clever people at Hendrick's Gin have scoured nineteenth century recipe books and come up with a brace of warming winter drinks inspired by Charles Dickens and the godfather of cocktails, Jerry Thomas. Time to get Granny's best china out of the cupboard.
Inspired by Dickens' very own gin punch recipe (For 6 people)
Three full teacups of Hendrick's Gin
Another three of Madeira wine
Three cloves
Pinch grated nutmeg
Large teaspoon of cinnamon powder
Two teaspoons brown sugar
Six large lemon and orange twists
Small slice orange
One fresh pineapple
Four large spoons honey
Juice of two lemons
Mix all ingredients in a saucepan and place on the heat. Let the concoction simmer for 20 to 30 minutes. Taste, adding lemon or honey depending on whether you like sweet or sour. When it's ready, pour into a teapot and serve in teacups. Alternatively serve in a traditional punch bow. Can be reheated so you can make ahead.