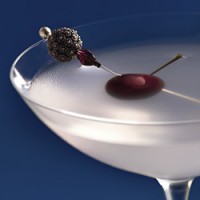 The legendary Aviation gin cocktail is said to have been created by Hugo Ensslin, head bartender at the Hotel Wallick, Times Square, New York, and was first recorded in his 1916 cocktail book 'Recipes for mixed drinks'. Containing only four ingredients: gin, lemon juice, maraschino liqueur and crème de violette, it is the final ingredient that gives a subtle pale sky-blue hue, and inspired the cocktail's name.
60ml Bombay Sapphire
15ml Luxardo maraschino liqueur
7.5ml Benoit Serres crème de violette
15ml Freshly squeezed lemon juice
7.5ml Chilled mineral water (omit if wet ice)
Shake all ingredients with ice and fine strain into a chilled glass. Zest with a lemon twist and then discard. Garnish
The integration of floral violet notes from orris root, and earthy angelica tones in Bombay Sapphire perfectly complement the bouquet of crème de violette and dusty fruitiness of Maraschino in this most classic of gin recipes.