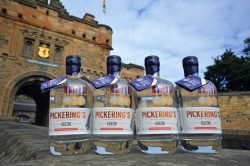 Pickering's Gin are celebrating their status as the Official Gin of the world famous Royal Edinburgh Military Tattoo by producing a 500 bottle limited run edition. Made at Summerhall Distillery, less than a mile away from Edinburgh Castle, Pickering's are Edinburgh's first exclusive gin distillery in 150 years.
In previous years the distillers have produced limited edition runs for The Royal Edinburgh Military Tattoo, Pickering's Naval Strength 'Bearskin' Gin (2014) and their 1947 Original Recipe Gin (2015) in celebration of the partnership with the unforgettable annual event. This year's edition is a decorative bottling of the gin that started it all – the multi-award winning Pickering's Gin. To mark the occasion, they're putting their medals on show across the front of the bottle.
This year's Tattoo pays tribute to Her Majesty The Queen's 90th birthday while celebrating 'Tunes of Glory'.  Each bottle comes with a royal blue wax seal, row of medals and a commemorative neck tag. Only 500 bottles will be produced, so just like tickets for The Royal Edinburgh Military Tattoo, they're expected to sell out.
Matt Gammell, co-founder of Pickering's Gin said, "It's an honour to be associated with such an iconic event". Marcus Pickering, co-founder continues, "We love the Tattoo and everything it represents. It's always great fun coming up with a new edition for the event and I hope everyone enjoys it!".
Nicola Thomson, Head of Strategic Marketing, Branding and Communications for The Royal Edinburgh Military Tattoo: "We've been on a wonderful journey with Pickering's Gin and it's a real delight to see yet another fantastic product released, just in time for this year's event. We're two well-loved brands in the city of Edinburgh, attracting supporters of both. We look forward to seeing what's next for our partnership".
The bottle sells at £29.50 for 70cl at Summerhall Distillery – directions here – and online at www.pickeringsgin.com . The gin will be served to guests from home and abroad in the Tattoo's VIP areas.