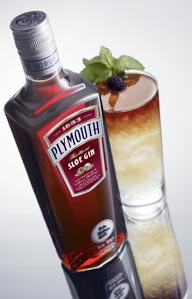 Gin connoisseurs across the US are in for a treat as the award winning Plymouth Sloe Gin has just become available in thirteen markets across the country. Previously only available in Australia and the UK, Plymouth Sloe Gin is a welcome addition to the resurgence of classic cocktails at the most prestigious bars and lounges from New York to Los Angeles.
"We are thrilled to bring the distinctive taste of Plymouth Sloe Gin to the United States for the first time since it was introduced in 1883," says Sean Harrison, Plymouth's master distiller. "It is very exclusive and in high demand because it is made in limited batches to ensure superb quality"
Produced at the historic Black Friars Distillery in Plymouth, England, Plymouth Sloe Gin remains true to the original 1883 Plymouth Sloe Gin recipe that helped propel Plymouth Gin into the limelight. It's made by steeping the finest sloe berries in high strength Plymouth Gin and soft Dartmoor water. The result is a unique, smooth liqueur taste with a stunning balance between sweet and bitter fruit flavors and a hint of almond from the stone of the fruit. Initially dry, the spirit opens itself with smooth and sweet cherry and raspberry notes that provide a complimentary mixture of figs, cloves, honey and stewed fruits.
"Every bartender I know has been champing at the bit for the release of Plymouth's Sloe Gin. There is, quite simply put, nothing anywhere near as fine as it on the market; it virtually defines the category," says renowned mixologist Toby Cecchini. "For classic straight sipping, to make a real sloe fizz or, as I expect, for enterprising bartenders to fashion their own new takes on the Blackthorn or the Diki, this release of the first real sloe gin Americans have probably ever tasted is going to open minds."
The possibilities for mixing sloe gin are a mixologist's dream. Aside from adding its smooth flavor to cocktails like the Sloe Gin Fizz, Sloe Motion or The Wibble, Plymouth Sloe Gin is ideal as an accompaniment to desserts and cheeses, enjoyed chilled over ice or simply served neat.