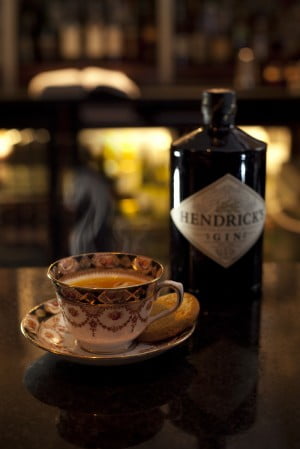 Following the unveiling of Hendrick's spectacular 13th Day of Christmas window at Peckham's in  Edinburgh, Bramble have created a 'Lucky 13' winter warming cocktail to celebrate this most unusual display.
Lucky 13
125ml Hendricks Gin
125ml hard apple cider
125ml fresh pumpkin puree
125ml pressed apple juice
125ml vanilla sugar syrup (to taste)
Bouquet garni*
Bring all ingredients to simmer until hot through and leave on the hob for around 20minutes. Serve warm
Glass: Hendrick's teacup
Garnish: 3 drops of Betters Bitters No.13* and a ginger snap on the side
*Bouquet garni comprising of 1 x cinnamon stick, 1 x clove, 1 x star anise,  2 x pressed juniper berries, 1 x pressed cardamom pod tied in a muslin.
*Betters Bitters No.13 are made in house with roasted pumpkin seed, chocolate, rosewater and other integral ingredients…
This recipe serves five
Try it at Bramble Bar, Edinburgh