Geraldine Coates casts a beady eye over Martin Miller's winter gin.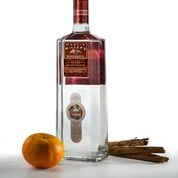 I'm a bit of a purist about gin and I like mine to be big, bold, classy and chock full of juniper. Which usually makes the run up to Christmas with its launch of winter themed gins a bit of a nightmare as one is bombarded by press releases with details of the latest, often gimmicky, offerings from people who really should know better. I'm looking at you M and S with your sparkly gin liqueurs in light up bottles. Very upsetting.
But Gintime has always been a big fan of anything Martin Miller does. (For a trip down memory lane do read our interview with the late lamented man himself way back in gin's Dark Ages – 2008 to be precise. https://www.gintime.com/features/gintime-interview-martin-miller/
So the news that Martin Miller's has just launched a winter edition gin certainly grabbed my attention and inspired me to whip my taste buds into action.
Martin Miller's Winterful Gin
Bottled at 40ABV
On the Nose – warm spice, soft citrus and mellow juniper combine to create exceptionally clean aromas,
In the Mouth- Diluted with a splash of water the sharp cinnamon flavour comes to the fore alongside a burst of tangy mandarin and soft, earthy cardamom layered over the more traditional juniper and coriander of the standard Martin Miller gin recipe. Mouth filling flavours and a long finish make this gin a real smoothie.
What They Say
WINTERFUL is inspired by the botanicals commonly used in home-made mulled wine recipes in both England and Iceland (where it is known as Jóla Glögg) and pays homage to the brand's dual heritage, which sees its English distilled gin blended with the purest Icelandic spring water for its signature smooth taste and soft mouth feel.
What We Say
Martin Miller's Winterful is made by a adding a separate distillation of botanicals such as cinnamon, cardamom and mandarin orange peel to Martin Miller's Gin's Original. It's a very impressive bottling from a brand that has always been associated with quality and brings traditional winter flavours to gin that remains a proper gin.
Signature serve suggestions include Gin and Ginger Beer and Winterful with hot cranberry juice. We tried it mixed with Appletiser, yes I know, but just remember how well apples and cinnamon go together. It was delicious and would also work well with the pear version of Appletiser. But this gin is crying out to be used in a traditional hot gin punch. As Dickens writes in David Copperfield even the task of making it is a pleasure.
"Punch, my dear Copperfield, like time and tide, waits for no man … His recent despondency, not to say despair, was gone in a moment. I never saw a man so thoroughly enjoy himself amid the fragrance of lemon-peel and sugar, the odour of burning spirit, and the steam of boiling water, as Mr Micawber did that afternoon. It was wonderful to see his face shining at us out of a thin cloud of these delicate fumes, as he stirred, and mixed, and tasted, and looked as if he were making, instead of a punch, a fortune for his family down to the latest posterity."
Mr. Micawber's Favourite Hot Gin Punch
Three full teacups of gin
Another three of Madeira wine
Three cloves
Pinch grated nutmeg
Large teaspoon of cinnamon powder
Two teaspoons brown sugar
Six large lemon and orange twists
Small slice orange
One fresh pineapple
Four large spoons honey
Juice of two lemons
Method: Mix all ingredients in a saucepan and place on the heat. Let the concoction simmer for 20 to 30 minutes.  Taste, adding lemon or honey depending on whether you prefer sweet or sour.  When it's ready, pour into a teapot and serve in teacups or alternatively in a traditional punch bowl.  This punch can be reheated should you wish to prepare it prior to a gathering. This punch is best simmered for half an hour or more– allowing the pineapple time to soften and caramalise.