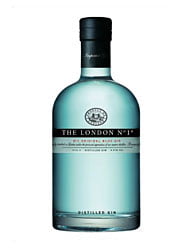 The London No. 1 – one of a handful of gins actually distilled in London – was created to echo the complex and full bodied gins of yesteryear, albeit with a modern twist – a striking turquoise-blue colour derived from maceration with gardenia flowers.
The highest quality Suffolk and Norfolk grain is used in distillation and the small batch "pot still" method ensures a consistent quality. Finally, the inclusion of 12 carefully selected botanicals makes The London No. 1 a gin to be savoured.
In line with the classic gins of yesteryear, juniper, coriander and angelica feature in the recipe – the first two botanicals imparting fragrance and spiciness whilst angelica, together with orris root, give body and structure to the other botanicals. A zesty freshness comes from liquorice root. The London No. 1 is unique in that it also has a final fusion of bergamot oil in the mix – that instantly recognisable perfumed aroma in Earl Grey tea. Its citric qualities marry beautifully with the fellow fresh juicy flavours of orange and lemon peel, whilst the bergamot also reinforces the "holding" role of orris root. These are perfectly offset with the thyme-like aromatics of savory, whilst the sweet, spicy notes of cinnamon and cassia bark complete the recipe. Rested for three weeks after distillation, the result is a real modern classic.
At a generous 47% abv The London No. 1 is delicate and elegant on the nose with marked spicy and balsamic notes. It is soft, elegant and mellow in the mouth with a long refreshing finish – a sophisticated, well rounded gin that delivers in every area.
Distributors
To find out more please contact UK distributors – Gonzalez Byass UK Ltd, The Hyde, Woodcock Hill, Coopers Green Lane, St. Albans, Herts. AL4 9HJ. Tel: 01707 274790. The London No. 1 can currently be purchased at Harrods, Booths, selected Waitrose stores, a selection of top bars and hotels in London, and via the Internet at www.thedrinkshop.com, www.gerrys.uk.com.
Keep checking in with us for new bar listings and retail availability for this exciting new gin!
The London No.1 Cocktails

The London No.1 News

The London No.1 Features

See also