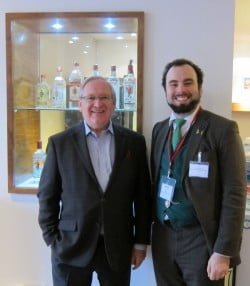 David T. Smith of Summer Fruit Cup reports on London's first Gin Ramble for Gintime.
February 1st saw the first ever Gin Ramble, organised by the Wine & Spirits Education Trust –  a gin-packed day that would see a group of gin enthusiasts tour four of London's gin distilleries. What better place to start than at London's most famous distillery, Beefeater, in Kennington. This was not Beefeater's first home in London; previous locations include Chelsea and Lambeth. The gin was created by James Burrough and, rather than creating an eponymous spirit like Alexander Gordon or Charles Tanqueray, he wanted a name that was closely associated with London.  "Beefeater" (named after the Yeoman Guards of the Tower of London) was a good choice in what current Master Distiller Desmond Payne refers to as an early piece of marketing.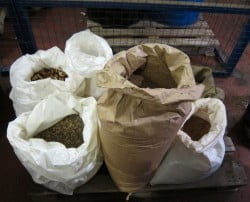 Desmond led us on a tour around the distillery (or rather the two distilleries, as the Beefeater facility consists of two built back-to-back). One room that amazed me was the juniper storeroom, a rather large space that was piled high with hessian sacks of the berries; and that only constituted 3 months supply!
After our tour, Desmond led us through a tasting of three gins: the well-known Beefeater Original, Beefeater 24 (Desmond's own creation), and the limited edition Beefeater Winter that was released a few years back. When pressed as to whether there would be any more limited editions, the distiller responded, "Perhaps from time to time." Very promising.
Since our trip, news has been announced that Beefeater's Visitor Centre will be open in the second half of 2013, so readers can experience all of this for themselves.
Back on the Gin Ramble, we travelled to the Sipsmith Distillery in Hammersmith, where their still was in full swing, although it was – sadly – distilling vodka and not gin. Here, we learned a little about the history of the brand and got to try their Dry Gin, Sloe Gin, and even a sneaky nip of their tasty Summer Cup.
This was followed by a trip to Thames Distillers, a distillery that very few have had the opportunity to visit. We sadly missed the bottling run, although it was more than made up for by the sight of the two stills, Tom Thumb and Thumbelina, as well as the fabled Oxley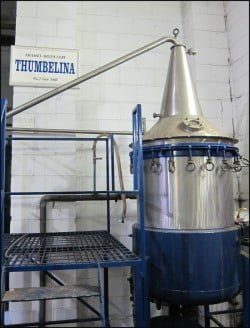 still, which we even had the okay to photograph. Master Distiller Charles Maxwell told us that Thames currently make more than forty gins, but that, by the end of the year, he expects this figure to be more than fifty. He uses around forty different botanicals, including some more unusual ones, such as Bergamot oil, which is used in production of the No1 London Gin.
Our last stop was Battersea, the home of the London Distilling Company, who will not only be producing gin, but whisky, too. We also had a talk and tasting given by Ian Hart, who makes Sacred Gin in his dining room in Highgate (a tad small for some forty-odd Ramblers to visit); we tasted Sacred Gin, their newly-trademarked London Dry Vodka, and a variety of different distillates of single botanicals. I was amazed at how much more pungent the vacuum-distilled juniper distillate was, compared to the conventionally hot-distilled one. The same goes for the cardamom distillate (the cold has far more notes of menthol). This insight goes someway to explaining how the process of distilling at vacuum and at low temperatures (as is used for Oxley) substantially impacts the gin's flavour.
Adding one final twist to the day's events, the London Distilling Company, who had just got their still up and running, decided to let the Ramblers design the first gin to put through it. We started off with a base of juniper, coriander, and angelica, and then voted on four more botanicals from a choice of twelve. The final choice was: orange, ginger, cassia and nutmeg.
For any gin fan, this would have been a great day out and the fact that it was an organised tour (including being driven from stop to stop) made it a more pleasant experience, as some of the distilleries are a little off of the beaten track.
With both Bombay Sapphire and Beefeater opening up visitor centres this year, there has never been a better time to be a gin tourist.