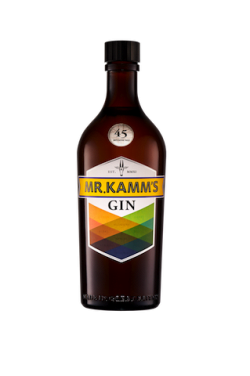 Mr. KAMM'S GIN
Producer: Kammerlings Ltd
Bottled at 42% ABV
On the Nose: citrussy and fresh with sharp spice notes
In the Mouth: Nicely rounded with a pleasing blend of sweet and spice flavours. Cinnamon, cassia and other Eastern spices overlay proper piney green juniper with an aromatic sweetness on the tip of the tongue. Long finish with complex aniseed and liquorice flavours lingering.
What they say: Mr. Kamm's London Dry Gin is a modern interpretation of the classic London style using a colourful blend of 45 ingredients to enhance the flavours of traditional gin botanicals.
What we say: We're normally a bit suspicious of gins with loads of botanicals but, this being the brainchild of Alex Kammerling who knows a thing or two about flavour, we approached this new gin with an open mind. And weren't disappointed. There's a huge amount going on in terms of flavour but nothing is out of balance. Different flavours from sweet to spice and bitter complement each other beautifully. And, smiling above them all, is fresh herbaceous juniper.