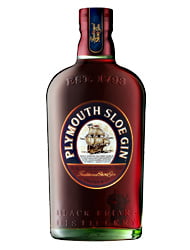 Sloe Gin is a traditional British liqueur made by steeping sloe berries, the fruit of the blackthorn tree, in gin. Until the early part of the nineteenth century all sloe gin was made in country kitchens to family recipes. Then, as with many other traditional products like jam, chutney and preserves, sloe gin became industrialised although the process is essentially the same whether 2 or 20,000 litres is made.
Plymouth Sloe Gin is one of a handful of commercially available sloe gins today and is made at Black Friars Distillery to a recipe of 1883. There the sloe berries are gently steeped in Plymouth Gin, soft pure Dartmoor water and a small amount of sugar for approximately 4 months. The sugar levels are kept low to allow the full flavour of the berries to shine and the distinctively sharp taste of the fruit to be maintained. It is then bottled at 26% ABV. Plymouth Sloe Gin is an entirely natural product with no added flavourings or colourings.
The Victorians sipped sloe gin as a digestif and winter warmer and started the fashion, later enthusiastically adopted by the Edwardians, of taking flasks of sloe gin on outdoor pursuits like hunting, fishing and shooting. There's not much call for sloe gin on shooting expeditions nowadays but an ever increasing demand for it in cocktails keeps sloe gin as a vital ingredient of the cocktail repertoire as it has been for well over a hundred years.
Purplish red in colour Plymouth Sloe Gin has intense sharp fruit flavours with a hint of almond and is perfect in signature drinks like the Sloe Gin Fizz and the Sloe Motion.
Sloe Gin Cocktails

Plymouth Gin News

Plymouth Gin Features