Eek how did it get to be December and looking a lot like Christmas already. We're getting our priorities right and planning the drinks we'll be enjoying this Festive Season courtesy of some of our favourite bartenders. Can't wait to get stirring, measuring and pouring. And, as no-one round ours really likes Christmas pudding, we'll be serving one or more of these beauties instead!
---
Ervin Trykowski of The Finnieston in Glasgow has worked closely with Caorunn Gin to come up with delicious cocktails that make the most of Caorunn's unique botanicals profile.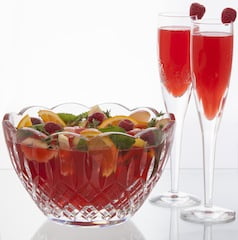 Caorunn Countdown
100ml Caorunn Gin
½ bottle Prosecco
50ml Lemon juice
100ml Grenadine
1 litre apple juice
Add all ingredients with ice into a punch bowl and stir well. Garnish with mint, apple, orange, lemon, raspberries, rosemary
---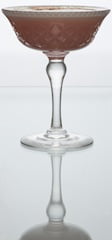 Scottish Winter Daisy 
40ml Caorunn
15ml Amaro Nonnino
25ml lemon juice
15ml Grenadine
1 dash orange bitters
Egg white
Shake all ingredients well over ice and stir in orange bitters. Serve in a coupette and garnish with grated nutmeg, cinnamon and star anise
---
And how about these visions of gorgeousness created by Christos Kyriakidis, Head Honcho at The Refectory Bar in the Blackfriars Distillery in Plymouth.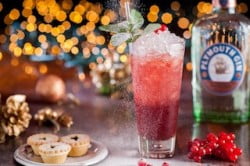 Christmas Cracker
25ml Plymouth Sloe Gin
15ml Plymouth Original
10ml Orange liqueur
15ml fresh lemon juice
10ml *mulled wine reduction
35ml *spiced cranberry juice
Build 5 first ingredients in a tall Collins glass, add crushed ice, add cranberry juice, stir and fill with more crushed ice to the top. Garnish with 3 redcurrants, sprig of mint and dust with icing sugar.
* Mulled wine reduction
2 litres of red wine, a nice fruity red will do, peel of 3 clementines, peel of 2 oranges, peel of one lemon, 2 cinnamon sticks, 1 star anise, 5 cloves. grated quarter of a whole nutmeg, 5 crushed pink peppercorns, 300 grams of sugar or more to taste
Place wine in a saucepan with all the peels, infuse for 15mins on high heat, do not boil. Taste it and once you are happy , filter and throw away peels. Put wine back in the pan with all spices (crush them if you want more spice) and cook for another 15 mins, taste and filter when you are happy with the spice. Finally put the spiced/citrusy wine back in the pan and add the sugar. Cook on a medium heat until is velvety, syrupy mixture. Put your spoon inside and stir, take it out, wipe your finger on the back of the spoon, if it leaves a clean line then your reduction is ready.
* Spiced Cranberry juice
1 litre of good quality cranberry juice (Frobisher's will do), 1 star anise, 1 stick cinnamon, 2 drops Mozart Chocolate bitters (optional)
Place all ingredients in a saucepan and infuse on medium heat, tasting and smelling as it heats. Do not boil the mixture. Once you are happy with the taste, remove from the heat, cover with a cloth and leave it to cool. Bottle it
---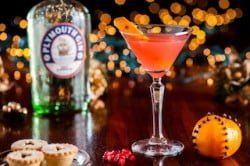 Festive 1934 Cosmopolitan
 35ml *Clementine infused Plymouth Navy Gin
15ml Mandarin liqueur
2 fresh lime wedges
25ml *clove & cinnamon infused pomegranate juice
Add all ingredients in the shaker, fill with ice and shake, fine strain into a chilled Martini glass. Garnish with an orange peel pricked with cloves.
* Clementine Infused Plymouth Navy Gin
Remove the peel and white pith of 2 small clementines, put the fruit into a jar, pour in one bottle of Plymouth Navy gin. Leave for 2 hrs, taste. Filter through a cloth and place back in the bottle.  Tastes divine
* Clove & Cinnamon Pomegranate Syrup
6 fresh pomegranates or 1 litre of good quality pomegranate juice, castor sugar, 3-5 cloves, 1 Cinnamon stick
Ideally juice 6 fresh pomegranates, but if not available use good quality pomegranate juice. Measure out the juice and add the same amount of sugar to the liquid. Place them into a saucepan, cook on medium heat until you have a nice rich velvety syrupy consistency, taste,  remove from the heat, cool and bottle it.
---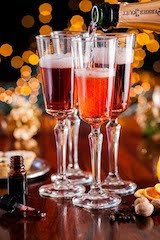 Blackfriars Fizz
15ml Tawny Port
10ml Plymouth Gin
*Mulled wine reduction in a pipette
Top with Perrier Jouet Rose
Put gin and port in a chilled flute, serve with a pipette full of mulled wine reduction and the Champagne. * Mulled wine reduction explained above. Pipettes from Boots.
---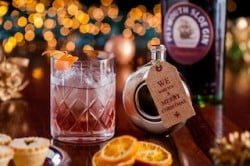 Santa's Lodge
25ml Plymouth Sloe Gin
25ml Chivas Regal Scotch whisky
5ml *homemade Christmas syrup
2 dashes of orange bitters
Stir all ingredients in a mixing glass with ice and strain into a hipflask and serve over ice a hand carved ice ball. Garnish with an orange zest
* Christmas syrup
Peel of 1 lemon,  1 orange and 1 clementine, 1 star anise, 1 cinnamon stick, 2 cloves, quarter of grated nutmeg, teaspoon of chopped raisins, seeds of half a vanilla pod, castor sugar, water
Measure out 2 cups of castor sugar to 1 cup of water, place in a small sauce pan on low heat and start stirring until sugar is dissolved. Then add all ingredients and cook on medium heat for about 10-15mins, taste , filter through cloth and using  a funnel fill  small bottle. A little tip for extra flavour is to squeeze all ingredients to make sure you extract all those flavoursome juices.