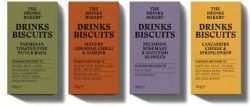 We've just come across the most amazing and delicious new product – snacks whose flavours are designed to complement the exact drink you're drinking. It's such an obvious idea that it's a complete mystery why it hasn't been done before.
The Drinks Bakery range of savoury biscuits is the brainchild of Andy Murray, an Edinburgh based entrepreneur with a background in the drinks business. He is from a family of passionate foodies and remembers his childhood as one of travelling around Europe with his parents seeking out interesting things to eat and drink and exploring flavour combinations.
Now he's brought that experience to shaking up the savoury snack market in much the same way as our good friends over at Fever Tree have revolutionized the mixer world. And for roughly the same reasons, as Andy explains: "There's so much innovation in the drinks sector right now but when you look at snacks and accompaniments to drinks it's like we're stuck in the 1980's. I wanted to create snacks with flavours that match drinks. This kind of food and drink pairing is an old idea, the wine people have been doing it for years".
There are four different flavours of Drinks Biscuits paired with champagne and white wine, craft beer, whisky and gin respectively. As you might expect we particularly like the one designed to match the G and T and other gin cocktails with pecorino cheese, rosemary and Scottish seaweed. It's crisp, buttery, packed with herbaceous flavour and very more-ish. What's the secret I ask Andy?
"It's simple really. We use absolutely the best ingredients, the best butter, and the best cheese all completely natural with no additives. Scaling up from experiments in my kitchen to producing in volume was a challenge but we're lucky enough to work with one of the best traditional bakers in Scotland – Macleans Highland Bakery. "
I've absolutely no doubt these little drinks biscuits are going to be a roaring success and you'll soon see them everywhere. You won't be able to miss them because they come in very stylish and distinctive packaging, see pic,  all part of their unique charm. Check out their website https://www.thedrinksbakery.com/ and watch out for their imminent arrival on amazon.com and yumbles. com