There's no question that punches are perfect for Christmas and family entertaining. First of all they are easy to make in quantities. Secondly those clever bartenders are always coming up with new twists so that punches can look super glamorous and like you've made much more effort than you actually have. And even better there's a big trend for gin punches as gin combines particularly well with citrus and other fruits. Here are a few of our favourites:
---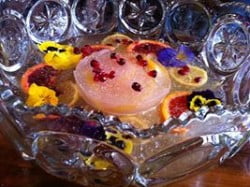 Horse and Carriage Beefeater 24 Punch
6 oz. Beefeater 24
3 oz. Combier triple sec
3 oz. St Germain
6 oz. fresh lemon juice
10 oz. cold chamomile tea
8 oz. sparkling wine
4 tbsp. citrus sugar
Method: Dissolve the sugar in the lemon juice in a punchbowl, add the alcohol and continue stirring. Add the tea, then a large ice block, then bubbly, and then garnishes. Grate nutmeg over the top. Serve with punch glasses on the side with 1 ice cube in each and a slice of lemon
Garnish: Lemon wheels, orange slices, edible pansies, pomegranate seeds, nutmeg
Serves 4 – 6 adjust quantities for larger groups. Thanks to Nelson Bernardes for the recipe.
And we've retrieved these from the archive as they are really really good:
---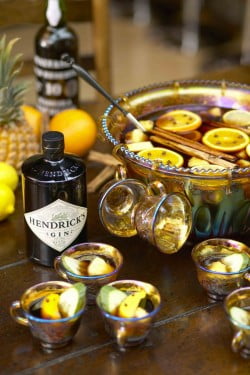 Eden Special Fizz
500ml Hendrick's Gin
250ml Noilly Prat Dry Vermouth
150ml home made cherry liqueur or Cherry Heering (to taste)
1 bottle champagne
1 lemon
Method:  Steep sliced lemon rounds in the first 3 ingredients overnight. Pour into punch bowl filled with ice and add champagne just before service.
Glass: champagne saucer
Garnish: lemon rounds
---
Hendrick's Purl
150ml Hendrick's Gin
1 litre of good quality hoppy ale
200ml cloudy apple juice

5 slices of satsuma
1 cinnamon stick

90g sugar

5g hops
2 cloves

1 dessertspoon honey
2 large splashes of Angostura Bitters
1 whole star anise
Method: Heat ingredients in a pan.  Simmer for 20 minutes then strain the hops out and serve with satsuma slices and a stick of cinnamon to garnish.
Glass:Teacup
Garnish:Satsuma slices and cinnamon stick
---
Mr. Micawber's Favourite Hot Gin Punch
Three full teacups of Hendrick's Gin
Another three of Madeira wine
Three cloves
Pinch grated nutmeg
Large teaspoon of cinnamon powder
Two teaspoons brown sugar
Six large lemon and orange twists
Small slice orange
One fresh pineapple
Four large spoons honey
Juice of two lemons
Method: Mix all ingredients in a saucepan and place on the heat. Let the concoction simmer for 20 to 30 minutes.  Taste, adding lemon or honey depending on whether you prefer sweet or sour.  When it's ready, pour into a teapot and serve in teacups or alternatively in a traditional punch bowl.  This punch can be reheated should you wish to prepare it prior to a gathering. This punch is best simmered for half an hour or more– allowing the pineapple time to soften and caramalise.  Pineapples (one of the most exotic ingredients one could get hold of) would have been a real treat during the Victorian Era, making this punch a genuine celebration.
---
Plymouth Pilgrim's Punch
This one is slightly more complicated as it requires a bit of prepping but you will certainly wow your guests with it.
4 cups Demerara sugar
2 cups water
1 pineapple, peeled, cored, and diced
3 lemons, washed
2 ounces superfine sugar
3 bags green tea
1 quart hot water
1 litre Plymouth gin
1 ounce yellow Chartreuse or other liqueur of your choice
1 cup fresh lemon juice
1 litre chilled soda water
Method: Make a rich syrup by combining Demerara sugar and 2 cups water over medium-low heat, whisking until sugar is completely dissolved. Let cool.
Add pineapple cubes to the syrup and cover. Let soak overnight at room temperature. Strain the pineapple from the flavoured syrup (don't discard the fruit—it's tasty).
Use a sharp vegetable peeler or paring knife to remove the zest from three lemons; avoid the bitter white pith. Place the zest in a bowl and add the superfine sugar. Mash with a wooden muddler until the mixture is fragrant and the lemon oil combines with the sugar to make a thick paste. Let rest one hour, and then remove the bits of peel (or leave them in as garnish).
Prepare a weak green tea by soaking 3 tea bags in one quart hot water for three minutes; let cool.
Combine the gin, Chartreuse (or other liqueur), tea, lemon/sugar mixture, lemon juice, and four ounces of the pineapple syrup, and stir until sugar is dissolved. Chill until ready to serve.
Add one litre chilled soda water and ice. Makes 14 servings
---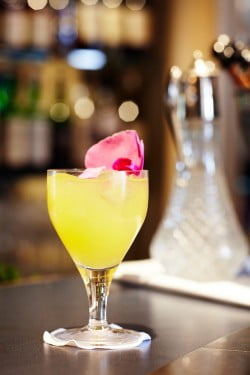 Bombay Sapphire Savoy Punch
30ml Bombay Sapphire
30ml home-made orange & grapefruit sherbet*
15 ml freshly squeezed lemon juice
10ml Orgeat (almond syrup)
30ml Earl Grey tea infusion**
Top up with Champagne
Glassware: Coupette or Champagne saucer
Ice: Shaken with cubed ice
Garnish: Splash of Champagne and  Edible Flower
Method: Add all the ingredients into a cocktail shaker (except the Champagne) and shake really well with plenty of cubed ice. Using a fine tea strainer, strain the resulting cocktail into a chilled coupette glass and top up with a splash of Champagne. Garnish with an edible flower. Enjoy!
* For the orange & grapefruit sherbet, grate the peel of one orange and two pink grapefruits then stir the resulting grated peel with 150g of caster sugar for around a minute or so to extract the natural oils out of the citrus fruit. Next, squeeze all the juice out from the orange and also the juice from one of the grapefruits and add to the sugar mixture. Stir this continually until the sugar has dissolved fully. Pass the liquid through a fine strainer and it's ready to use – 30ml per cocktail.
** For the Earl Grey tea infusion, brew one Earl Grey tea bag in 150ml of boiling water then take out after 4 minutes. Leave to cool then use 30ml per cocktail.
And check out our Cocktails section for more great festive drinking ideas.