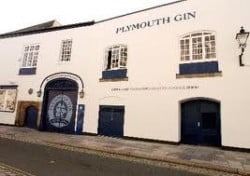 If we had a pound for every email that arrives at Gintime Towers requesting information about how to see actual gin being made at an actual gin distillery, we'd be rich. Right now, until the Beefeater Distillery Visitor Centre in London and the Bombay Sapphire Experience in Hampshire open in the autumn, the only gin distillery open to the public in the whole of the UK is the home of Plymouth Gin, the Blackfriars Distillery in Plymouth.
And we can't recommend a visit highly enough. Yes it is a bit of a schlep down to the West Country but it is so worth it. On arrival, a short wander through the historic Barbican, Plymouth's ancient port area, takes you to Southside St where the original makers of Plymouth Gin, Coates and Co, started making Plymouth's finest in the 18th century, possibly even earlier.
By law, Plymouth Gin can only be made within the city walls of Plymouth, the result of several court actions taken by Coates and Co in the 19th century to prevent other gin distillers "passing off' their gin as a Plymouth gin.  That, allied to the fact that every bottle of Plymouth Gin carries the wording Plymouth Dry and not London Dry makes Plymouth Gin unique in terms of UK gin.
At the Distillery you'll find a choice of three different tours – the Plymouth Gin distillery Tour, the Connoisseurs Tour and the Master Distillers Tour. If you have the time the Master Distiller's Tour is aimed at the real gin aficionado and you even have the opportunity to make your own gin under the watchful eyes of Master Distiller Sean Harrison, the man in charge.
But, whichever option you choose, you'll learn a huge amount about gin and its fascinating history not to mention the history of this wonderful building, parts of which go back to the 14th century.  Indeed it is rumoured that the original splendid vaulted refectory room was where the Pilgrim Fathers spent their last night in Blighty before they set off for America. The Refectory is now the coolest bar in Plymouth and, naturally, the place where your tour will end with a delicious gin drink.
Go while the sun shines, go soon but don't forget to book as the tours are massively popular. You can get further details and make a booking here – http://booking.plymouthgin.com/distillery-tours/cat_5.html