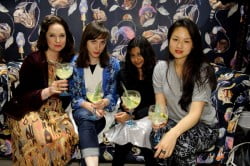 House of Hackney has just launched its first flagship store in the heart of Shoreditch, the design hub of Hackney. And Bombay Sapphire was there to help celebrate by creating a signature Bombay Sapphire Palmeral G&T, made with Bombay Sapphire infused with fresh tropical pineapple and Great British celery, topped with Fever Tree Tonic.
The great and good of the fashion world were in attendance including Biba founder Barbara Hulanicki, Henry Holland, Mary Charteris, Katie Hillier, Hermione de Paula and Phoebe Collings-James.
Occupying two floors, the flagship store will become the embodiment of the brand's playful, irreverent style, decorated in its trademark statement prints and new collections and featuring its celebrated home wares and fashion designs. In the spirit of creativity and design that is at the heart of the brand, House of Hackney invited a team of unique talents to collaborate on the store. Luxury architects MRA, the team behind the design of stores including Hermes, Agent Provacateur and Marc Jacobs, have designed an iconic interior whilst for florist Wild at Heart is curating a special 'Wild at Heart X House of Hackney' flower shop inspired by the collections.
Founded by life and business partners, Frieda Gormley and Javvy M Royle, the foundations of the house are built on quality that is made to last along with an emphasis on Made in England, supporting UK industry in the process. As well as the classic collections of Dalston Rose and Hackney Empire the flagship store will see the launch of new collections including Palmeral, London Rose and Inferno, along with new product categories to include flowers, sleepwear, accessories and stationery, as well as the fashion and interiors collections.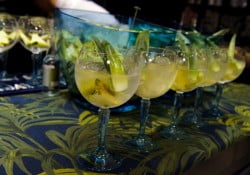 Bombay Sapphire Palmeral G&T

Ingredients
50ml Bombay Sapphire
100ml Fever-Tree tonic water
Good quality cubed ice to build over
Garnish
5 segments fresh pineapple
5 slices celery
3 pineapple leaves
Method
To a clean Bombay Sapphire Ultimate G&T balloon glass, add the pineapple and celery pieces plus 50ml of Bombay Sapphire. Swill to quickly infuse. Fill the glass full of good quality cubed ice and stir again. Top with 100ml of chilled Fever-Tree tonic water and gently stir for a final time. Garnish with 3 arranged pineapple leaves and serve straight away.