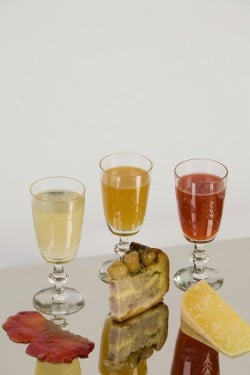 Pairing cocktails with food is not exactly a new idea. Walk around any decent sized Spanish town during the hours of paseo and you'll see people enjoying their sundowners with a bowl of delicious tapas in front of them.  Russians and Poles serve special little hors d'oeuvres with vodka and everyone knows the perfect accompaniment for a Thai or Indian curry is a long, ice filled gin and tonic. But whilst food and cocktail pairing is increasingly becoming a popular dining out option it's not a concept you'll see often down your local bar. And that's a pity. Because it really can be very simple.
I just happened to catch Beefeater International Brand Ambassador Sebastian Hamilton-Mudge's seminar on food and gin cocktails, and it was an eye opener.  The combinations have been designed specifically to be easy to put together in bars that don't have large kitchens or even necessarily serve anything other than bar food. Even better it's very British food, the perfect accompaniment to very English gin.
First up was a Gin Sour made with Beefeater 24, fresh lemon juice, Lapsang Souchong tea and a spot of gomme syrup. This was served with Beetroot Cured Smoked Salmon. Here the earthy, vegetal smokiness of the salmon brought out all the subtle flavours of tea and citrus in the drink.
Number two choice was a Red Snapperish cocktail made with Beefeater Dry, cherry tomatoes on the vine and watercress paired with a slice of Poacher's Pie, the game version of traditional English pork pie.   The robust, salty flavours in both drink and food complemented each other superbly adding up to a taste sensation that was more than the sum of its parts.
The final example was   a cocktail made from red wine vinegar, lemon juice, fresh raspberries pureed, apple juice and Beefeater Dry served with Old Winchester cheese. Opposites attracted with the strong savoury flavours of the cheese really enhancing the fruitiness of the drink.
So simple flavour combinations, easy to make picnic type dishes, what's not to like? Practical too as drinking on an empty stomach is never the best idea. I am already thinking Carpaccio of venison cooked with juniper berries, rosemary flavoured cheese toast, herby things – I could go on. And, as it seems like we are finally getting a hint of Mediterranean weather,  let's make the most of the Mediterranean lifestyle with a British twist.