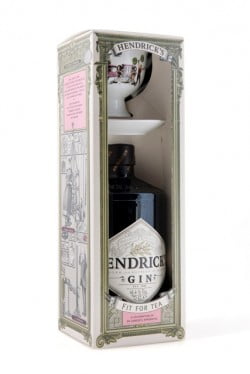 As the Olympics arrive in London the general population is more than ever intrigued by sport and fitness. With these interests in mind, this summer Hendrick's Gin seeks to resuscitate and revive the reputation of Dr Gustav Zander, a man of extraordinary foresight who in the late 1800s invented 27 mechanical workout contraptions to combat the ills of a sedentary lifestyle.
'Hendrick's Fit for Tea' is a limited edition gift pack that celebrates some of Dr Zander's successes as well as supplying a bottle of Hendrick's Gin (70cl), a delightfully peculiar teacup, and a selection of cocktail suggestions to enjoy whilst perusing his designs.
Available from July 2012 at a recommended retail price of £25.29, the Hendrick's Fit for Tea pack is the perfect purchase for those curious minds that have grown tired of humdrum drinking glasses, and long for more inspiring vessels from which to sip and savour their favourite Hendrick's tipples.
While lifting a tea cup to your lips will do little to improve your fitness, the Hendrick's Floradora cocktail will at least ensure it is a rewarding exercise…
Hendrick's Floradora
Ingredients
50ml Hendrick's Gin
15ml fresh lime juice
1 spoonful raspberry jam
Ginger Beer
Method
Stir together Hendrick's, lime juice and jam in your Hendrick's tea cup. Add ice and top up with ginger beer. Garnish with two raspberries and a lime wheel.