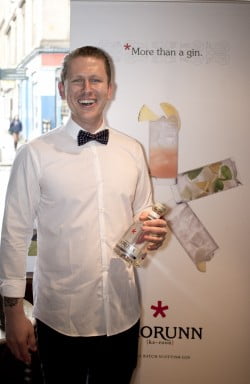 Iain Griffiths from Bramble in Edinburgh has been crowned the national winner of an innovative new global cocktail competition, hosted by Caorunn Scottish Gin.
The Scottish heat, which took place on 9th July in The Finnieston in Glasgow, put the nation's best bartenders to the test during an evening of cocktail creativity and showmanship. The 25 year old bartender will now represent Scotland in a global final which will see him compete against the world's best bartenders in September.
Caorunn Storytellers Global Cocktail Challenge was launched in March 2012 to champion cocktail creativity and showmanship internationally. With its own rich Celtic heritage, the super premium gin believes that behind every drink there is a tale to tell, so challenged the world's bartenders to do just that – create a new Caorunn cocktail and showcase the story behind it.
The cutting edge contest stirred up a storm in England, Scotland, Spain, and the US, where a series of national heats are taking place to crown the best bartender from each country. The four national winners will then be invited to compete in the global grand final.
At the Scottish final, Iain and his fellow entrants were tested to the limits in rounds where they proved their creativity by submitting a 'modern classic' concoction ; which featured one of Caorunn's five celtic botanicals – rowan berry, coul blush apple, bog myrtle, heather and dandelion. Caorunn also looked for a sparkling showman who could bring their creation to life by telling the tale behind it.
The judging panel, which included Clinton Cawood from trade title Imbibe, Martin Duffy from the Scottish Bartenders Network, Mal Spence from Glasgow's Blythswood Square Hotel and Caorunn's Brand Ambassador Ervin Trykowski, were dazzled by Iain's exceptional cocktail – The Red Loch, which was inspired by one man's quest to enjoy a drink.
Iain will now compete in the competition's Grand Final which will take in Edinburgh on 3rd September 2012. During the event the international finalists will be put through their paces in front of an expert panel of judges made up of industry peers. The winning mixologist will take home a cash prize of £1,500, as well as being honoured with the esteemed title of Caorunn Global Storyteller 2012, with their winning drink being promoted worldwide as a signature Caorunn cocktail.
Caorunn Brand Manager Ibolya Bakos says: 'Caorunn is delighted to host this innovative new competition to champion creativity across the globe. The calibre of entries has been fantastic and bartenders have created modern classic cocktails which perfectly tie in with Caorunn's reputation as a modern, sophisticated gin with a rich heritage.
Iain's cocktail was truly innovative and we are looking forward to bringing some of the world's best bartending talent together in September for the exciting grand final.'
Iain 's winning cocktail – The Red Loch
Ingredients
50ml Caorunn
12.5ml White Vermouth
12.5ml Applewood Smoked Sweet Vermouth
7.5ml Drambuie 15yo
Dandelion & Burdock atomisation
Method: Add all but the Dandelion and Burdoch to a mixing glass and dilute accordingly. Rinse chilled glass with atomisation. Strain across and spray once more. Serve and enjoy.