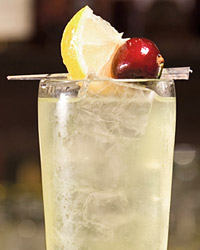 A twist on one of the most popular classic long cocktails. Created by Ago Peronne, mixologist and brand ambassador of Galliano L'Autentico.
10ml Galliano L'Autentico
Rock ice
50ml Plymouth dry gin
20ml freshly squeezed lemon juice
5ml sugar syrup
Top up with soda
Lemon wedge
Fresh cherry
Build and mix in a Collins glass using the ingredients and rock ice. Garnish with lemon wedge and a fresh cherry.