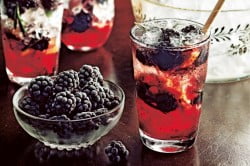 Thursday's the new Friday doncha know? And to kick start the weekend we're breaking out one of our fave pick me ups particularly as blackberries are in season right now. So it's the Bramble and it's got to be Plymouth Gin as this great combination of gin, lemon juice and blackberry liqueur was originally invented by the famed Dick Bradsell with Plymouth in mind.

The Bramble 
2 shots Gin
1 and 1/2 shots freshly squeezed lemon juice
1/2 shot sugar syrup ( make your own by dissolving 3 tsps sugar in a little water)
1/2 shot Crème de Mure
Glass: Old Fashioned
Garnish: Blackberries and lemon slice
Method: Fill glass with crushed ice, add gin, lemon juice and sugar syrup. Top up with more crushed ice. The lace with the crème de mure and decorate with fresh blackberries and lemon.
And right now Asda has Plymouth Gin for  £20  – get those stocks in!