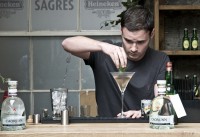 Ben Murdoch from Tonic Bar in Edinburgh has just been crowned the winner of an innovative Summer Cocktail Competition hosted by Caorunn Scottish Gin.  The Caorunn Cocktail Challenge, which took place in Hawke & Hunter's Secret Garden, put Edinburgh's best bartenders to the test during an afternoon of cocktail creativity and showmanship.
The contest, which was hosted by Caorunn during a unique Highland Garden Party, was devised to challenge, celebrate and showcase Edinburgh's bartending community like no other. The city's high standard of mixology skill shone throughout the evening with entries from leading bars including Oloroso, The Voodoo Rooms, Tigerlily, Tonic, Below Stairs and Sygn amongst others.
£200 prize money and bottles of Caorunn were up for grabs as bartenders battled it out by creating one original Caorunn cocktail concoction to present to the judges. Caorunn's crisp dry taste provided the perfect base for a host of cutting edge cocktails and bartenders wowed the crowd with their innovative drinks. After the highly competitive contest, Ben was declared the winner with his impressive creation that was praised for its overall balance, simplicity and fantastic taste. Ben was closely followed by Ben McFarlane from Tigerlily who scooped second place.
Don't Thistle my Pink
50ml Caorunn Scottish Gin,
20ml Glenlivet Whisky
20ml Raspberry Gomme Syrup
1 Lavender Stem
Thistle Garnish
Method – Stir ingredients in a Martini glass. Rub lavender around the glass rim and stem. Garnish with a thistle