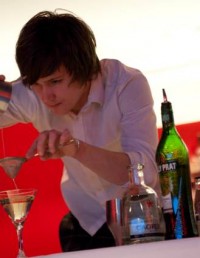 Caorunn, Scotland's handcrafted small batch gin, is taking UK gin lovers on a sensory adventure with a series of cutting edge cocktail master classes. Created using an authentic fusion of five Celtic botanicals, Caorunn's crisp dry aromatic taste is currently going down a storm.  The new Masterclass series kicked off in March in Edinburgh, where guests were taken on a unique tasting tour showcasing the gin's new range of Spring cocktails. Hosted in Harvey Nichol's atmospheric top floor bar, Caorunn's brand ambassador and gin connoisseur Ervin Trykowski stirred up the crowd with contemporary twists on cocktail classics and an internationally inspired three-way almond gin fizz. Enjoy a taste of the Scottish Highlands and sample one of Ervin's delicious Caorunn Spring Cocktails for yourself with the recipes below.
Ervin got to the final of Drinks International Cocktail Challenge with the Good for the Gander Cocktail designed to showcase Caorunn's clean floral notes.  Adding the same amount of Lillet gives the cocktail a slight dryness. Goose Island IPA from Chicago is a very subtle style of IPA, which adds a really nice malt flavour to the drink as well as a bitter aftertaste. Then the drink is finished off by adding a small amount of St Germain (elderflower liqueur) to lift all the other flavours giving the drink a fresh, clean light taste.
Good for the Gander
25ml Caorunn Gin
25ml Dry Vermouth or Lillet
25ml Goose Island India Pale Ale
12.5ml St-Germain Elderflower Liqueur
Combine all the ingredients in a mixing glass and stir with ice. Serve in a chilled Martini glass with a grapefruit twist.
Poppy Blush
37.5ml Caorunn
12.5ml Poppy liqueur
12.5ml Dubonnet
25ml lemon juice
25ml apple juice
25ml rhubarb syrup
Egg white
Place all ingredients in a Boston shaker, shake without ice and then with ice (this helps get a froth from the egg white).  Double strain into a martini glass and garnish with a basil leaf.