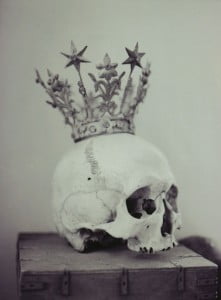 The Last Tuesday Society in association with Hendrick's Gin is delighted to announce a new and extended campaign to educate a nation in the most useful of subjects from the whereabouts of baby Jesus' foreskin to the history of swearing. Suzette Field's College for Practical Knowledge has now joined forces with Viktor Wynd's Academy of Domestic Science to create this most intriguing season of lectures and workshops.
---
MARCH
25th March 2010
The Big Itch with Strange Attractor: Amoret Whitaker, forensic entomologist at the Natural History Museum, bemoans the nation's declining flea population and tells us more than we need to know about these magnificent micro-critters.
26th March 2010
The History of Swearing, The Bizarre World of John Willie and Damanhur, The Community of Time Travellers with The Catalyst Club: Three talks, three speakers covering the themes of bondage magazines, swearing and time travel.
---
APRIL
6th April 2010
Sebastian Peake on his father, Mervyn Peake, author of the Gormenghast trilogy.
13th April 2010
Tom Hunter on The Art of Photography: In 2006 Hunter was the first artist to have a photography show at the National Gallery, London.
15th April 2010
The History of Spirit Photography with Gordon Rutter: Photography and organised spiritualism were born around the same time and consequently their history is intertwined. Join Gordon as he unravels the mysteries of the history behind spirit photography.
22nd April
Errol Fuller on Extinct Birds: Ornithologists estimate that 150,000 avian species have existed since birds first appeared millions of years ago. If that figure is correct then nearly 94 percent of those species have gone extinct over time. In his talk, Fuller will focus on 75 avian species that have vanished since 1600.
---
MAY
20th May 2010
Medieval Relics with Dr William MacLehose: Christian belief in the power of relics, the physical remains of a holy site or holy person, or objects with which they had contact, is as old as the faith itself and developed alongside it. From the foreskin of baby Jesus to a piece of the Virgin Mary's veil, Dr William MacLehose explores the power of relics and their reliquaries.
12th & 26th May 2010
Mask Making Workshops: Short version of the popular mask-making course in preparation for the Society's May Masked Ball. All materials are included
---
JUNE
10th June 2010
The Coney Island Amateur Psychoanalytic Society and their Circle 1926-72 with Zoe Bellof: To celebrate the centennial of Freud's visit to the great amusement parks of Coney Island in 1909, artist Zoe Beloff conjured up the forgotten world of the Coney Island Amateur Psychoanalytic Society, along with the visionary ideas of its founder Albert Grass.
17th June 2010
Selina Hastings on Somerset Maugham: A Life Undercover, William Somerset Maugham (1874-1965), author of classics such as Of Human Bondage, Cakes and Ale and The Razor's Edge, was one of the most famous writers in the world.
---
SEPTEMBER
30th September 2010
Tim Knox, Director of Sir John Soane's Museum in London draws upon Soane's own archive to paint a fresh picture of this strange, tormented genius of British architecture.
---
For more information, times and tickets go to www.thelasttuesdaysociety.org