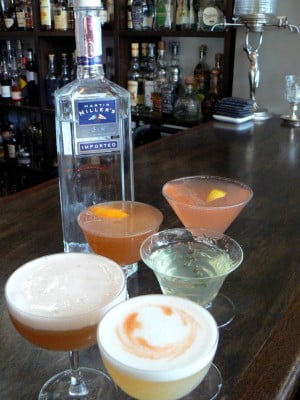 For the past few weeks there's been a lot of action on the Martin Miller's Gin Facebook page where  fans were asked to "Trade Up" by choosing  a dubious cocktail from the 80's and turn it into a sophisticated drink for the people of the 21st century to enjoy. Yes, predictably enough these included sad old drinks like the Sex on the Beach, Screwdrivers, Kamikaze's and other silly concoctions from the decade of wine coolers and shoulder pads.
More than 50 incredible recipes came in via Facebook from expert mixologists and amateur bartenders alike.  After a round of voting that gave us the Top 5 finalists, our expert panel of judges recreated each one and rated the cocktails based on aroma, taste and presentation.
And the winner of the 2011 "Trading Up" competition is the Strega Sour created by Junior Ryan of Clyde Common.  As the Grand Prize winner, Junior will receive $500 and his cocktail will be featured on Jamie Boudreau's show Raising the Bar. The cocktail will also live on the menu of Jamie's new mixology bar, Canon in Seattle, Wa. Thanks to everyone who participated and keep drinking Martin Miller's Gin! Cheers!