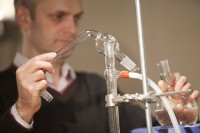 It's not often one gets a chance to explore a gin distillery but Plymouth Gin, one of only 18 British food and drink products with its own geographical identification, has just unveiled The Master Distiller's Private Tour – the ultimate experience for gin lovers. It not only includes a private distillery tour with Sean Harrison, Plymouth Gin's Master Distiller, but also provides the opportunity to be mentored through the entire distilling process using your own personal micro gin still.
The new experience is the idea of Sean Harrison and as he explains:'The art of distilling Plymouth gin has been passed down from distiller to distiller, but this is the first time we have offered such an exclusive opportunity to gain first-hand insight into how we make our gin. I hope it will be a fun and memorable experience for food and drink enthusiasts.'
After being shown around The Plymouth Gin Distillery, Sean will explain the production process before hosting an in-depth tasting of different gin styles.  Finally, each person is able to have a go at making a gin that is as good as Plymouth Gin and will be given a small bottle of 'single batch' handmade gin to take away.
The Master Distiller's Private Tour is just part of what's on offer at the historic home of Plymouth Gin.  Apart from The Master Distiller's Private Tour, the Distillery hosts two other tours.  The Plymouth Gin Distillery Tour lasts approximately 40 minutes; it provides a fascinating insight into how one of Britain's best-loved gins is made and also gives an intriguing introduction to the building – reputed to be the place where the Pilgrim Fathers spent their last night before sailing for the New World.  Gin enthusiasts interested in discovering more about the tastes and styles of different gins can opt for The Gin Connoisseur's Tour which lasts about an hour and a half and includes a distillery tour and a comparative tasting of Plymouth and other styles of gin.
'The Refectory', the Distillery's historic bar, is home to Britain's only nationally accredited bartending course and serves up some of the finest cocktails in the country. Visitors can discover why Plymouth Gin has been recognised as 'The Perfect Martini Gin' by bartenders worldwide ever since it was specified in the first ever documented recipe for a Dry Martini in 1896.
The Distillery is also home to the Barbican Kitchen Brassiere, set up by local food heroes, Chris and James Tanner.  So, if you can make a real evening of it by taking part in the 'Master Distiller's Private Tour' before enjoying some fabulous cocktails in the bar and rounding things off with a great meal.
The Master Distiller's Private Tour costs £40 per person and must be booked in advance by calling the Plymouth Gin Distillery on 01752 665 292 .Check out the Distillery here –  www.plymouthgin.com