12 Rue du Château d'Eau, 75010-10e Arrondissement, Paris (Map)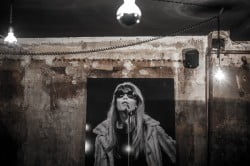 Very French, very chic and very sexy, Bar Le Coq is the latest barventure from Tony Conigliario with partners Thierry Daniel and Eric Frossard of the famous Paris Cocktails and Spirits Bar Show. Situated in the increasingly fashionable 10th, almost spitting distance from Place de la Republique, this is an area that is well and truly on the up particularly for foodies with two renowned restaurants, Le Chateaubriand  and Le Dauphin close by.
Smart thinking here, as Parisians tend to have a different drinking culture from their less sensible British counterparts and don't really do after work drinks but rather go for cocktails after a meal so that the drinks are part of the whole gourmet experience. Gourmet it certainly is. And one would expect nothing less from Tony C. whose reputation goes before him. Le Coq's Fig Leaf Collins was quite simply one of the best drinks I have ever had in my life. Made with Beefeater Gin, lemon juice and fig leaf syrup concocted at Tony C's London lab, The Drink Factory, it combined sour and sweet in the most perfect way. The White Lady has exactly the amount of lemon sherbet tartness one looks for whilst an experimental twist on the Martinez made with Clacquesin, a pine flavoured vermouth, was a triumph.
Traditionally the French taste in cocktails veers towards the sweet so it's interesting to see this cocktail list, devised in London, majoring more on the dry and the sour albeit with loads of typical locally sourced citrus and floral ingredients. "It's an experiment" as Eric explained: "Cocktail tastes are changing in France and we'll see how our menus work. We're not the only ones who are pioneering these new types of flavour combinations in the Paris bar scene and we're getting a great response".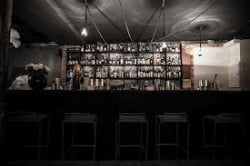 With a décor based on the cool bits of the 70s – think Francoise Hardy, Andy Warhol, the Rolling Stones and proper rock chicks – a super chilled atmosphere and a drinks menu to die for Le Coq represents the perfect marriage between London inventiveness and Gallic glamour. Get the Eurostar timing right and you could almost just pop over for a drink. As if!
Open: Mon-Sat 18:00 – 2:00
Tel: +33 1 42 40 85 68