151 West George Street, Glasgow (Map)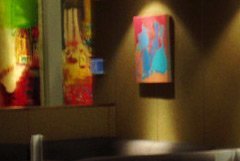 Top bartenders' bar of choice in Glasgow is The Blue Dog. Opened last year, this funky, new bar is a laid back cocktail venue, designed like a modern day speakeasy. It's open till 2am on weekdays and 3am at the weekends and is a great place to quaff cocktails and listen to live music. Blue Dog's music is jazz based, with a piano in one corner for professional tinklers. A resident magician on Thursday evenings adds to the gaiety.
Blue Dog is the venue for those who enjoy the quality of their drinks. Hendrick's Gin is the house pour here and Plymouth is also a popular choice. Try them and other Gintime Movers and Shakers out in classic gin drinks such as the Gin Garden and the Singapore Sling or stick with the theme and go for the house speciality – a mean Martini.
Tel: 0141 229 0707