65 Rivington Street, Shoreditch, London, EC2A 3AY (Map)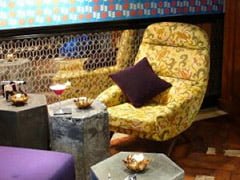 Whacky name, fab bar. Callooh Callay takes its name from Jabberwocky, the nonsensical poem by Lewis Carroll, and has many quirky design touches that make it a fascinating place to hang out. For example the surreal Narnia wardrobe. Enter it and you find a cool little lounge, a mirrored bar and lavs lined with old cassettes.
The cocktail list has been winning this bar loads of awards and it's one of the few places you'll find a properly made Vesper Martini and other classic gin drinks. A great selection of Gintime gins demonstrates this bar is serious. The wine list is pretty special too with lots of excellent by the glass offerings and there's plenty of choice for beer drinkers too. The food is just what you want ie light bites, sharing plates and a Credit Lunch for a fiver. If you're into people watching Callooh Callay offers hours of entertainment with a typically Shoreditch crowd never ceasing to amaze and amuse.
Tel: 0207 7394781