8-9 Hoxton Square, London N1 6NU (Map)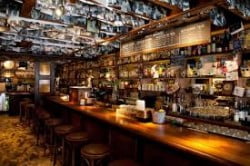 This issue Gintime is lucky enough to have the mysterious and elusive Gin Monkey giving us her opinion of the bar that every bartender loves.
It has no hint of speakeasy about it, yet it's a bit difficult to find. It's shabby without the chic. It feels like it's been there forever but only opened a couple of years ago, and it looks a bit like a dive bar but it serves up damn good cocktails. It's called Happiness Forgets and ever since it opened it's been a bartenders favourite.
Happiness Forgets can be found on the west side of Hoxton Square beneath Yelo Thai restaurant. As I said, it's a little difficult to find, you could walk past it every day and never know it's there as it's hidden in a basement. First warning: the bar is tiny, with room for no more than around 50 people and it's seated only, no standing. I love the cute little touches that you don't notice at first, such as the lettering on the stairs, or the bits and pieces of bar equipment hidden in nooks behind the bar. It may have a second hand shabby feel to it, but a lot of care and attention has clearly been put into every feature no matter how small.
Happiness is a pretty dark venue, with blood red walls lit by candlelight and vintage lamps giving a cosy almost drinking by the fire kind of atmosphere. I'm not going to lie though, it does make reading the menu a little tricky…good job they're short yet perfectly formed then, and you can always call on the bartenders for a hand. The cocktails may not be the most innovative or unusual in London, no barrels or tinctures here, instead expect simple and down to earth libations, which are well balanced and made with a lot of care and attention.
The cocktail menu changes fairly frequently so there's no chance of getting too familiar with the offerings upon repeated visits. The bartenders are very knowledgeable, and crazy competent when it comes to all things cocktail. They are therefore more than capable of making any classic cocktail alongside those listed on their menu, or making you something bespoke to your tastes. There's also a good range of beers (boilermaker anyone – they've got a cracking bourbon shelf) and a good selection of wines if you're that way inclined. If you're feeling peckish then order some snacks courtesy of the Thai place upstairs, they're yummy!
Be aware that if you're in a larger group booking is recommended on busy nights (late week/weekend) in order to snag one of the tables. Also, in my experience it may take a while (especially when busy) for the guys to take your order & make your cocktail, so be prepared to wait a little. Your cocktail will be worth it though, pinkie promise!
To sum up then Happiness Forgets is a solidly good little cocktail bar with a lot of personality. If you're looking for a chilled out bar to relax in, imbibe a few well made cocktails and catch up with friends you've found the perfect place. It's just a shame it's only open til 11pm!
Tel: 020 7613 0325