157 Commercial Street London, E1 6BJ (Map)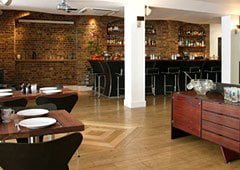 Named after the architect who designed nearby Christ Church, Hawksmoor is the ultimate steakhouse and cocktail bar. The décor is elegantly simple with white walls and open brickwork, black seating, tables of reclaimed Burmese teak and a magnificent bar sourced from a 1930s dance hall in Hull. Cocktails are exceptional here with Hawksmoor's nine page cocktail list required reading for the connoisseur. The menu features a mix of long lost classics and some new inventions from gin king and top barkeep, Nick Strangeway. His current gin rave is the Bloodhound, a fabulous mix of gin, sweet and dry vermouth and either strawberries or raspberries, that dates back to 1922. Watch out too for Nick's amazing collection of Victorian punchbowls and glasses.
Quality is the key to the food menu too with great starters and a fantastic array of steaks and chops from the famous Ginger Pig butchers. Forget traceability, this meat is from animals who've been lovingly reared and probably privately educated. And you can tell.
Tel: 0207 247 7392