St Pancras Renaissance London Hotel, Euston Road, NW1 2HR (Map)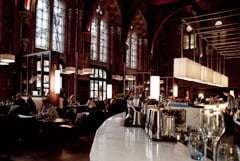 The Booking Office Bar at St. Pancras has got to be one of the most romantic bars in London – one feels there's an imminent brief encounter just a step away on the nearby Eurostar platform. Set inside what was once, yes, the original Victorian booking office of architect George Gilbert Scott's 1873 Midland Grand Hotel now completely restored to its former glory, the Bar easily occupies this dramatic space.
Cleverly, original Victorian architectural details like the ornate arched windows, ribbed vaulting and magnificent brickwork combine with super contemporary furniture and lighting to create an epic interior. The drinks menu is equally inspiring. Created by top consultants Henry Besant and Nick Strangeway it majors on lost drinks from the Victorian era so think punches, fizzes, daisies and slings served in bespoke glasses and punch bowls.
There's a great selection of Gintime gins such as Beefeater, Beefeater 24 and Beefeater Summer as well as Hendrick's and Plymouth. Being gin fans the guys have come up with some real crackers such as the Gin Fix, a super citrussy type of Collins, and the Pineapple Julep straight from Mrs. Beeton. Cocktails are beautifully served and are accompanied by exceptionally good bar food with deliciousness like chips with truffle shavings and devils on horseback. We found it a hard place to leave even if with a train to catch.
Tel: 020 7841 3540