White Lyan, 153 – 155 Hoxton Street, London, N1 6PJ (Map)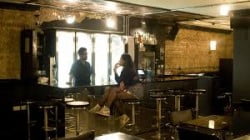 White Lyan in Hoxton Street is as different in concept from any bar you've ever been in as grabbing a McDonalds is from dining chez Blumenthal. It's not about the obvious issues such as quality, rather that the approach to mixing drinks is so radical. You notice for example as soon as you walk into this rather cool minimalist space that there's no back bar. White Lyaners Ryan Chetiwardana's and Iain Griffiths don't believe in brands although they are happy to work with a changing rota of selected brands that are showcased subtly in a side cabinet. (Happy to see that, currently, fave Gintime gin Hendricks is one of them.) Instead they buy in large batches of spirit, then either redistil, macerate or infuse it to get the flavour they want and sell it under the generic Mr. Lyan name.
And that's just the beginning of the list of items that White Lyan doesn't have. No perishables so no fresh ingredients like citrus, no ice and most importantly no attitude. But this is no gimmickry – here it's all about flavour which is arrived at by a variety of different and subtle mean not least the use of innovative ingredients.
Drinks are batch made and stored in large chill cabinets behind the bar. You choose your drink from the menu and someone pours it for you – maximum wait – ooh about two minutes. And with a menu full of surprises and delightful twist there's certainly plenty to choose from. The Spotted Lyan Martini for example adds a dash of absinthe to the classic gin and vermouth marriage whilst the signature house drink, The Lyan Club Cocktail, is a heavenly mix of Mr. Lyan Gin, red apple turmeric shrub, citric acid, gin and soda made in a milkshake machine and served foamy. This is a drink that I could quite happily be hooked up to via intravenous drip for the rest of my life. And in the interests of fairness we tried some dark spirits too. The Beeswax Old Fashioned was Scotch with a hint of bitters sweetened with honey poured out of a bottle lined with beeswax. The Moby Dick Sazerac had ambergris, a precious substance often used in perfumery derived from the bile ducts of sperm whales, Peychaud's bitters and was served with the most extraordinary garnish of absinthe flavoured rice paper. Superb.
White Lyan is undoubtedly a force to be reckoned with, taking the energy that is driving the London cocktail scene to a whole new level. Go as soon as you can. The night Gintime was there Beyonce and Jay Z popped in after their O2 gig. We didn't even notice – damn those drinks are good!
Tel: 0203 011 1153