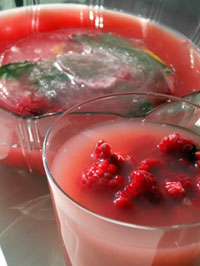 Serves 4
This is a Scottish twist on the popular Sea Breeze cocktail with gin replacing the vodka and raspberry instead of cranberry juice. I've named it after Harris, the Outer Hebridean Island with some of the most beautiful beaches in the world.
2 ½ cups gin
2 cups grapefruit juice
3-½ cups raspberry juice
Garnish: large block of ice with fruit and mint frozen in it, frozen raspberries to serve. Mix all the ingredients and serve in a punch bowl with the large ice block.