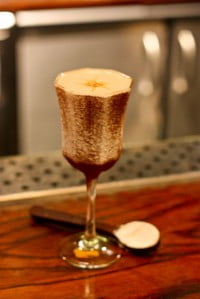 Marian Beke from the award winning bar Nightjar has created a cocktail to accompany Hendrick's Gin's Twelve Days of Christmas window display named the 13th Day of Christmas. Nightjar won CLASS magazine's best new bar in 2011 and is forging a reputation for itself as one of the most cutting edge bars in London and this cocktail is delicious. Here's the recipe:
The Thirteenth Day of Christmas
By Marian Beke, Nightjar.
40ml Hendrick's Gin
40 ml Christmas Wine Mix *
3 dashes roasted cocoa and Mauritia pine nuts bitters
1 bar spoon Italian marzipan paste
2 whole quail eggs
Combine all ingredients in shaker over ice. Shake extremely hard and strain ingredients into a glass that has been dusted with Luwak Powder and Chocolate. Garnished with edible Chocolate Spoon.
* Christmas Wine mix contains ratafia, byrrh, sweet vermouth, White port, amontillado sherry.