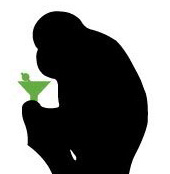 Science policy lobbyist by day, intrepid cocktail quencher by night! Emma, the brains and palette behind one of the UK's most trustworthy bar review sites tells us what makes Gin Monkey swing.
What made you decide to start Gin Monkey?
The frustration that there wasn't a website that provided the information I wanted: completely impartial reviews of the best cocktail bars in London. I also wanted to be able to see the venues on a map or by rating and to be based on the quality of the cocktails. The first GinMonkey content was published in November 2009 and a year later it really took off. I do all the design and coding myself, learning as I go, and in the future I'd like to work on the functionality of the site and build an app.
Can you tell us a bit about your day job?
I work in science policy, lobbying to ensure that vital medical research isn't hindered by new legislation within government. About as different as you can get from GinMonkey I guess!
How did you get interested in cocktails?
An ex boyfriend started to work in a bar that decided to introduce a cocktail menu. I became their chief taster and my interest developed from there. Now whenever I go to parties I always end up being volunteered to make drinks. I also find myself subconsciously working out what cocktails we can make with the ingredients there are. For this reason I try and bring something unusual to a party that people won't think of. Something like Cointreau or cassis is great, as you can use it to then make cocktails or punch with the spirits others have brought along with them.
Any top tips for making great cocktails?
Make sure you've got good quality ice, and lots of it. Also, have some straws in the house allowing you to taste the drinks before you serve them, so that you can add a bit more of any one ingredient if you need to balance the drink. Also, don't be afraid to go with your gut and experiment!
You make a point of never accepting freebies from bars and being completely impartial – that must be expensive for you! How do people on a tighter budget afford cocktails?
It is expensive but I believe it's my impartiality that sets me apart from the rest so I value it more than anything.
You can afford cocktails on a budget, but you have to be careful and do your research. Happy hours are the obvious place to start – Barrio Central and London Cocktail Club are both particularly good, and the new Mayor of Scaredy Cat Town in Spitalfields is worth a look if you're venturing east.
Sites such as Living Social and Groupon are worth keeping an eye on for good cocktail deals – but always check out reviews of the venue before you buy.
Look out for consumer tastings too. These will give you the chance to explore and learn more about a spirit, often at a subsidised rate. Graphic bar in Soho and Hide Bar in Bermondsey are particularly good examples. Callooh Callay holds great tastings where they also craft cocktails with a featured spirit.
If you live in London and enjoy cocktails then you should give London Cocktail Society a look too. Set up by myself, Mark and Kate (two other cocktail bloggers) we arrange meetings on a bi-monthly basis across the capital. Events are varied, from distillery trips to tastings and hands in cocktail competitions. All are welcome, just sign up on the website: www.londoncocktailsociety.co.uk
Has your experience of cocktails bars taught you anything unexpected?
That you can't judge a book by its cover. I had some of the most amazing cocktails in a little dive bar in Salzberg a few years ago. Unfortunately I can't for the life of me remember its name now!
Describe your ideal night out and who you would you spend it with?
My perfect night out would involve a cocktail bar crawl with some of my best friends, some of whom I've met through twitter, gin monkey and London Cocktail Society.
We'd start in Rules for good classic cocktails, then go for more experimental creations, maybe to Purl for the theatricality of it. Then it would be time for some food, so perhaps Spuntino or Da Polpo, which I love. Next up would be somewhere with a lively attitude like Graphic, London Cocktail Club or Callooh Callay. By the end of the night I'd probably be drinking a glass of fizz in a late night bar like Nightjar.
It's a difficult crawl, spreading over most of London. A monkey can dream though…
Apart from Gin monkey what other cocktail websites and blogs do you rate?
I think Neil over at Yet Another Gin (www.yetanothergin.co.uk) does really well to cover so much that's going on across the country, given that he lives in Birmingham. Plus he started World Gin Day so will always have a special place in my heart!!
I obviously have to mention my two partners in crime: The Cocktail Geek (www.thecocktailgeek.com) and London Cocktail Guide (londoncocktailguide.wordpress.com) . Although we cover the same things there's lots of variety between us.
I also enjoy reading the Bitters and Twisted (www.bittersandtwisted.com) blog. I think it gives a really good overall view of the industry. I know who Dan is and who he works for, but I'm constantly impressed as to how he manages to write so well and so honestly on his site.
Gin Monkey's cocktail of the moment:
A particular favourite creation of mine is The Pearberry Fizz
3-4 raspberries
Juice of half a lemon
10ml gomme syrup
12.5ml Xante pear cognac
12.5ml Raspicello
25ml Plymouth gin
Shake and strain into a rocks glass full of ice. Top with a little lemonade. Garnish with a slice of cucumber and raspberries.
Gin Monkey's top five bars:
Purl
69 Colebrooke Row
The Raconteur
Bramble
Bourne and Hollingsworth
Check out Emma's top bars