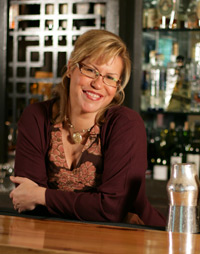 Audrey Saunders's energy is as invigorating as her cocktails. Juliet Lawrence Wilson meets a woman of integrity and passion.
"I feel so ashamed just looking at it!" Audrey Saunders is not happy: "My ice machine needs fixing. We had to call the ice company for an emergency delivery, and it's shite ice." Saunders is one of the most respected players in the drinks industry and when she takes frozen water this seriously it isn't hard to see why. Our last two Gintime interviewees Nick Blacknell and Sean Harrison both enthused about her talent, professionalism and passion for the industry.
"Wow – I had no idea, that's quite an honour, because I have an enormous amount of respect and admiration for them as well." Desmond Payne and Simon Ford make up the fab four of Saunders's gin world. "They have done more for gin than anyone else out there, but it goes way beyond gin, it's who they are as people, the content of their character, their dignity. "
Saunders has immense charisma and a likeability that comes from taking her profession seriously but not herself. She thinks her status in the drinks industry comes from having high standards: "Maybe because I'm a purist, and a hard-core evangelist – it's been said that I'm a bit parochial regarding standards, perhaps because I don't buy into hype." Saunders never meets with salespeople, even those she regards as friends: "If they have a new product to try, everyone knows not to pull any bottles out of their bags because I won't allow any bottles on display during operating hours. If someone wants me to try something they know to leave a bottle behind, and I will get to it. I blind taste everything at least twice, first neat, and then mixed into a drink."
Saunders travels extensively, but home is in Manhattan, "I've been there for the last 18 years. I enjoy the travel as long as it's not back-to-back; I've found that I'm not made for that. But I love to get out there and see what's going on – especially right now, the global cocktail scene is incredibly inspiring."
It seems ironic then, that Saunders entered the drinks industry from a need to get out more: "I got divorced! My ex and I were childhood sweethearts; he's still like an older brother to me. We are both workaholics, and I decided I needed to get a social life, so I thought I would bartend for a little while until I figured out what I wanted to do. The minute I stepped behind the bar, I was hooked. I'm a lifer."
Because she had a regular customer who loved them, the Margarita was the first drink Saunders mastered, spending countless hours trying it with different Tequilas, Triple Secs and ratios of lime juice. "It was a fascinating process, and probably what got me to start thinking about continually reworking my drinks again and again over until they were perfect."
She now takes a culinary approach to mixology: "I have taken a few levels of French cooking technique, and learning to cook in that manner had a major influence on my palate. Not only do you need to understand each of your ingredients, but when combined with other ingredients, the interplay between the two." She believes in balance, sensibility and the freshness of ingredients, "Don't reach for the stars to utilise an ingredient because it might be trendy. Use it only if it makes sense, and brings something to the table."
Dale DeGroff mentored Saunders and remains a friend and confidant. "He not only taught me about bartending and crafting great drinks, but more importantly, about people and life. He is truly one of the finest people I know."
There was a very simple question that Dale would always ask Saunders whenever she approached him with a new drink: "Before he would sip it, I would tell him what the ingredients were. Then he would simply ask, "But is it a good drink?" That question was the acid test. It's all about deliciousness, and to this day, I still ask myself the same question."
Saunders is the guiding light behind the Pegu Club, named after a British officers club in Rangoon, from the late 1800's – 1940's. "I have a lot of friends in London, and Pegu is my homage to the UK, to gin, to old-school drinking customs, a celebration of old methodology, and classical foundations." Her signature cocktail sums up this philosophy: "The Pegu Club cocktail itself is a fantastic, old-school classic, and my idea of the ideal drink, indicative of what we represent: brisk, bright, clean, crisp. The perfect aperitif. "
Gin is her muse: " My favourite medium to work with – I use it for cuts and bruises too." Saunders thinks a great gin should have a good, clean distillate and a selection of botanicals that have an affinity for each other. "The botanicals you choose need to work together, they need to have a synchronicity. And you can't stop there, you can have a great botanical selection, but too much of this or not enough of that can leave the gin short of the mark. You need to achieve a balance of all the flavours together, as a whole."
Saunders is a person who has achieved her goals through hard work and integrity but why are there so few prominent women in the industry? "I hate this question – I hate that there is still a lot of validity to it, and that you still have a right to ask it." Don't hold back, lady! "For a long time, bartending was not a respectable profession for a woman to be in. Even still, if a woman is hired as a bartender, it is often about putting a piece of ass behind the bar for men to flirt with, and unfortunately, a lot of women still buy into that role."
She has no time for excuses, "I strongly believe that it is up to the woman; if you behave unprofessionally, you are going to be treated in kind. Don't use the bar as a hunting ground to hook up with guys." Saunders feels that although it's not fair, women need to be more on point then men and really need to know their stuff: "When you're behind the bar, don't whine, don't complain about cramps or that your boyfriend doesn't love you anymore. If you need to haul cases of wine, beer, and liquor, and have to change kegs, then just shut up and get it done – study twice as hard, and be twice as good. If you respect yourself, then others will as well."
Point taken. Saunders is excited about the future: "I'm seeing a hard-core return to pre-prohibition craftsmanship and attention to details." She has mentored a couple of people in the last few years, "My intentions are purely selfish though – the more bars they get behind and open, the better I'll be drinking!"
Are there any new mixologists we should look out for? "Yes, but I'm not telling. They're making themselves known, by the quality of their work, and they're building good things, brick by brick – that's what counts."
Saunders thinks there is much to celebrate about the drinks industry, "Our growing professionalism, our zeal, and our desire to further our craftsmanship." She herself has these attributes in spades but also possesses more than a hint of self-deprecation. Does she know that there's a stuntwoman also called Audrey Saunders? "There's another one? God help you all."
Audrey's bar picks:
In the UK you have a wonderful cocktail circuit, which is continually growing. I recommend Sochu, The Hawksmoor, Lonsdale, Milk & Honey and Salvatore's. I love to visit Alan Cook at The Ritz – he is an old friend, and one of finest hosts I've ever met. He has a better sense of humour better than the devil.
What gin do your prefer in a G&Ts and how do you serve it?
That all depends: what tonic water would I be using with it? Is it going to be served with a lemon or lime wedge? For me, Beefeater with Schweppes, with a lemon wedge, OR a Plymouth with Fever Tree, with a lime wedge. It's all subjective…