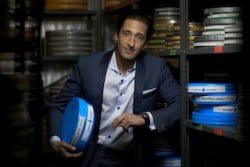 Bombay Sapphire has announced Academy Award winner Adrien Brody as a judge for the Bombay Sapphire Imagination Series Film Competition. Now in its second year, the Bombay Sapphire Imagination Series Film Competition, in association with the Tribeca Film Festival, is sparking people's imagination by offering them the chance to have their own short film made through interpreting a script written by Academy Award winning screenwriter Geoffrey Fletcher.
From the 29 April 2013 people from around the globe can visit www.imaginationseries.com to view Geoffrey Fletcher's script and submit their own film concepts based on this script. The films deemed the most imaginative will go into production and each winner can be involved in the production of their film alongside world-class talent, and see their version of Fletcher's script brought to life on the big screen.
The Competition closes on 4 August 2013. , Adrien Brody, Geoffrey Fletcher and a panel of experts from the Tribeca Film Festival will then shortlist the four most imaginative ideas to go into production. The panel will shortlist a further five ideas to go forward to a public vote, the winner of which will also go into production. All five films will then be premiered in Tribeca the following year, in April 2014. Brody comments: "I was a wild, mischievous kid. I always possessed a vivid imagination. Just about any experience I had, I'd try to re-enact it. I would recall nuances of the moments, and unique behavior of the people that moved me, so I always had the makings of an actor within me. I'm grateful that I've found opportunities for that creativity to flourish and I feel extremely passionate to be able to work with Bombay Sapphire Gin on this competition – encouraging people to explore their own. Imagination really can take you anywhere and is so subjective, so I'm excited to see people's interpretation of Geoffrey's script and I look forward to embarking on this incredible journey with them."
"We are proud to continue our association with a brand who embraces creativity and imagination the way Bombay Sapphire does. The competition is a fantastic way for filmmakers all over the world to express their imagination. We are excited to see where their imagination takes them," adds Jon Patricof, President of Tribeca Enterprises.
With a heritage rooted in imagination, Bombay Sapphire gin has long supported the world of creativity, design and innovative ways of thinking. Bombay Sapphire Global Marketing Manager Magali Podesta comments, "The Bombay Sapphire team believes imagination makes the world a better place. Everything the brand stands for and everything we do is infused with imagination from our exotic botanicals to our vapour infused distillation process and our iconic blue bottle. We want to spark people's imagination in film and let them create a story based on an Academy Award winning writer's script to create a series of unique short films, showing that imagination can take you everywhere." To watch the five winning films and for more details on the competition, script and how to enter visit: www.imaginationseries.com For updates on the Bombay Sapphire Imagination Series Film visit: www.facebook.com/BombaySapphire