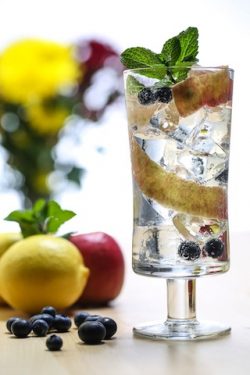 Wow! here are some absolutely delicious summer cocktails from our good friends over at Caorunn Gin guaranteed to make even these rather grey British summer days truly sunny. The new Summer Fruits G&T, Summer Solstice Sangria and Summer BBQ cocktails have been crafted by Caorunn's expert mixologists to enhance the gin's unique flavours, here are the recipes:
Summer Fruits G&T
1 part Caorunn Gin
2 parts premium Tonic Water
1 Braeburn Apple
Mint leaves
Blueberries
To mix: Build ingredients over cubed ice, mix lightly.
To serve: Pour into a highball glass and garnish with apple peel, mint leaves and blueberries.
Summer Solstice
50ml Caorunn Gin
25ml Pink Grapefruit Juice
12.5ml Passion Fruit Syrup
12.5ml Bitter Truth Apricot Brandy
2.5ml Absinthe
Dash of Orange Blossom
4-5 Cardamon pods
To mix: Mix ingredients together in a cocktail shaker
To serve: Pour over crushed ice into a highball glass. Garnish with a grapefruit twist and lime wedge
Summer BBQ
25ml Caorunn
25ml sloe gin
25ml lemon juice
20 gomme (1:1)
Soda
To mix: Pour the Caorunn, sloe gin, lemon juice and gomme into a cocktail shaker and shake with ice to blend.
To serve: Pour into a glass and top with soda. Garnish with apple slices, a blackberry and a lemon twist
Caorunn gin is handcrafted in small batches in a unique Copper Berry chamber by Gin Master, Simon Buley, with his enviable distilling and spirit expertise. Uniquely it uses five locally-foraged botanicals from Speyside including dandelion, heather, Coul blush apple, bog myrtle and rowan berry along with six traditional gin botanicals and natural Scottish water.