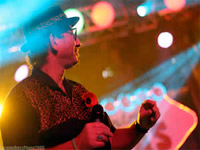 Miss Martini catches up with cocktail loving, husky voiced, legend, Lenny Love as he prepares for the month long marathon that is the Edinburgh Festival. With his swinging tunes and eclectic style, Lenny Love never fails to get hipsters on the dance floor at his Vegas club at top festival spot, the Famous Spiegel Tent.
What is the most enjoyable thing about being a local when the festival is on?
The city really comes alive and puts on the best show of all! (and, I know where all the venues are!).
What advice would you give to a tourist coming here at this time of year?
Don't drive – the streets are crowded enough!  Take every opportunity you can get to eat, sleep and do your laundry.  By the end of August I've usually lost a few kilos (in my case, that's not a bad thing!), and am clearly suffering from serious sleep-deprivation (and liver damage!), plus a severe shortage of clean clothes!
What atmosphere do you aim to create at VEGAS?
It's all Frankie Sumatra's fault – he pointed a loaded martini at me one day and 'persuaded' me to join him and Bugsy Siegel in the caper. He said we'd have 'fun', and it'd be the kind of place we'd like to go to ourselves – full of stylish, glamorous people socialising, gambling, dancin', and drinkin'.  And, of course, the showgirls…  He wasn't lying. But, to be (semi) serious, if you could create the ultimate party atmosphere, it would be just like VEGAS!
Tell us about your alter ego Dino Martini?
Dino is my somewhat lecherous alter ego who loves wine, women and song just a little bit more than is good for his health – especially if there's a jealous husband or boyfriend about!  He's known to frequent highly questionable low-down dives, and enjoys 'getting-down' with the demi-monde as well as high society.  His love of music is legendary, as is his devotion to South American knitwear and interesting liquid refreshments – especially cocktails.
What is your definition of style?
It's got very little to do with 'fashion'. Style is more about attitude, creating a look, and having the chutzpah to carry it off!
What is your favourite cocktail?
That's like asking a DJ to name their favourite song!  In truth, it really depends on the time of day (or night!), what I'm doing (or what I may shortly want to do!), and what my taste buds tell me!  I do enjoy the occasional 'Miami Special' (which hails from the 1930's) or the amazing 'Corpse Reviver' (another old recipe, from the 1920's) but, having said that, I'd never refuse a Gimlet – and I prefer them to be made with Tanqueray 10 gin. Actually, if somebody else is buying, I'd never refuse any cocktail!
Who is your style icon?
I could give you a long list but, for all-round stylishness and elegantly rakish hat wearing, it's gotta be Humphrey Bogart.
Describe a perfect evening out?
Hmm, how old are your readers?  With flowers & a box of chocs in hand, I'd collect my date and we'd have a cocktail before heading off to the cinema or the theatre (best seats, pre-booked, of course!). After the show, we'd go to a jazz club to see a band and dance cheek-to-cheek, and afterwards head back to either her place or mine where I'd put some suitable late-night/seductive music on and mix a little cocktail or two for us. Then I'd maybe knock-up a tasty light supper, accompanied by some wine, and then it'd be time to (ahem) 'turn the lights down low'…  Failing that, a night in the boozer with friends, followed by a fish supper on the way home, and then an old movie and a good cigar.
And who would be your ideal date?
She'd be a music-loving redheaded young tall blonde middle-aged short brunette with a stunning pair of blueish browny green eyes, a lust for life, and a devilish sense of humour!  If you know her, please give her my number.  Actually, Ella Fitzgerald would have been perfect.
Which fictional character would you most like to spend an evening with?
Moll Flanders.  Phew! One night would probably be enough…
What tune do you like to play when the evening is at its most vibrant?
Either the cracking' version of 'Right Now' by The Creatures, or the stonking great cover of 'Hit The Road Jack' by Mo' Horizons.
And what do you finish up with?
I'm rather partial to ending nights with 'Bring Me Sunshine' – but I tend to play Willie Nelson's version more often than Eric & Ernie's.
What would be your favourite song to sip a gin cocktail to?
'Who Wants To Be A Millionaire' by Frank Sinatra, accompanied, of course, by a Millionaire cocktail.
What is your favourite bar in Edinburgh?
Unfair! I could name quite few but, for various reasons, I'd have to single out The Basement in Broughton Street.
Do you have a favourite movie?
Yes.  'To Have And Have Not', the 1944 film, which starred Humphrey Bogart and Lauren Bacall.  Directed by Howard Hawks, it was 'based' on the Ernest Hemingway novel, but the script bears little resemblance to the book.  Actually, a lot of the dialogue was ad-libbed by the actors, and that's what makes it so watchable – especially the banter between the 19 year-old Bacall (in her first film role) and 'Bogie.  The on-screen chemistry between them is absolutely electric and obvious to see, so it was no real surprise that they fell for each other and later got married.
Who would play you in a film?
Ha! Brat Pitt?  Mmm, not really.  Sean Connery?  Nice idea, but no. Billy Connelly?  Funny enough, but too hairy.  It would have to be either Ben Kingsley or Patrick Stewart.
Tell us a secret about yourself?
When (as a schoolboy) I was practising the clarinet, I used to make the family dog howl along with me.  Everyone's a bloody critic!
Links: