Election blah blah, polls blah blah, hung parliament blah blah – the important question today is what to drink as you watch the General Election 2015 results roll in. So, depending on which national party you're voting for here's our handy guide to matching your drinking choices to your political preferences.

The Negroni
In the red corner is a hard-core cocktail for those completely dedicated to gin. The Negroni creates arguments like no other cocktail and there are constant attempts to play around with the basic formula to make it more appealing to non-gin drinkers. However it tastes best when one sticks to the classic recipe.
Equal Parts Gin, Campari, sweet vermouth
Stir ingredients in a mixing glass filled with ice, strain into a chilled cocktail glass (or ice-filled double rocks glass) and garnish with an orange slice.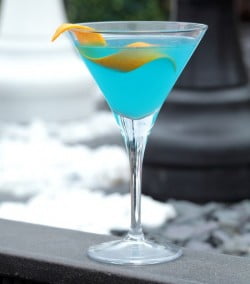 The Handbag
Named after the signature accessory that defined the best-known fan of blue drinks in the 1980s, The Handbag is a marriage of traditional British produce and exotic, some might say exclusive, ingredients. Today's Handbag drinkers tend to think all drinks should be blue but, unlike their forebears, have made strenuous efforts to embrace a more democratic outlook of late.
35ml Gin
35ml Lychee juice
10ml Blue Curacao
15ml Lime
Orange zest
Add all liquid ingredients to your shaker, top with cubed ice and shake hard. Fine strain into a chilled Martini glass. Garnish with orange zest and enjoy.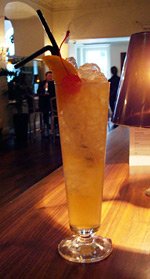 The Bittered Sling
Last GE yellow drinks were on a roll but five years later and, perhaps unfairly, yellow aficionados have become disillusioned and a little bit bitter. On a more positive note with ingredients that are firmly rooted in the European tradition of distilling there's no question that yellow drinkers are the most outward looking of the British electorate and could play an important role in future cocktail trends.
37.5ml Gin
12.5ml Mandarine Napoleon
25ml Elderflower Cordial
25ml Lemon Juice
12.5ml Benedictine
Shake all ingredients and strain into a sling glass filled with cubed ice. Top up with soda and garnish with apple slices.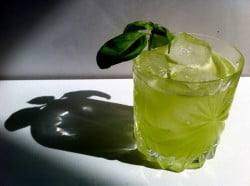 The Basil Smash
Over the past few years green drinks have become a thing and are particularly popular with those who are passionate about environmental issues. Fresh, approachable and eminently quaffable , The Basil Smash is one of the few genuinely new contributions to the ever evolving world of cocktails.
60 ml Gin
Juice of half a lemon
20 ml/0.7 oz sugar syrup (or 2 teaspoons fine white sugar and 2 teaspoons water)
6 – 8 large basil leaves
Cut a lemon in half and squeeze it in a shaker, the squeezed lemon goes into it as well. Add basil leaves and muddle well. Add 60 ml gin and fill the shaker with ice Shake well, strain in a tumbler, filled with fresh ice.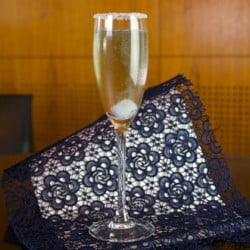 Purple Lace
We're not too sure how many Gintimers actually drink purple cocktails or indeed would admit to doing so, but in the interests of fairness, we searched out this very delicious combination of traditional English ingredients. A dash of common sense wouldn't go amiss though.
25ml Gin
15ml Violet liqueur
Dot of plum bitters
Add ingredients to flute type glass, top with English sparkling wine and rim with lavender sugar