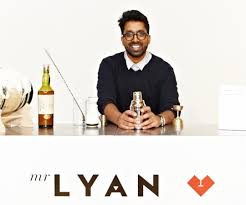 Gintime was so intrigued with the Caorunn Gin cocktails made at the recent World's 50 Best Bars party we just had to find out more from Ryan Chetiwardana of  newly opened White Lyan in Hoxton who, with his partner Ian Griffiths,  devised the drinks for the night.
So Ryan can you tell us a bit about the cocktails that White Lyan served at the 50 Best Bars event?
The 'G & Tini' and the Pickled Apple Ramos that we came up with for 50 Best were done to showcase what we do at White Lyan. This meant that we used no citrus, ice or other perishables. Naturally that approach allowed us to be very controlling of the serves, but also crucially, serve quickly at what was a very busy event. No one at the Caorunn bars had to wait long for a drink, and, when it got very busy, we could spend time catching up with many bar friends from around the world, rather than chase our tail making drinks!
 And why do you think Caorunn worked so well with these drinks?
We based the drinks specifically around Caorunn. We lifted the herbal green grassy notes specifically as we thought this would suit the setting of the event. We also want two contrasting serves that would provide work to the different needs of the night; one was a clean martini style serve, the other was a lighter fizz – both of which suited the setting of the evening, and could be sipped and shared with friends whilst wandering around the event.
The 'G & Tini' was a martini serve where we made a vermouth based on the structure of tonic water. Using a white wine base, we infused wormwood, burdock, apple and other bitter English herbs but also used some citric acid and some quinine to give the crisp bite that you find in a tonic. The drink was lightened by being poured through a wine aerator but retained the finesse of a Gin martini.
The second drink was a 'Pickled Apple Ramos'. Using the apple notes from Caorunn, we added structure through an apple blossom distillate, a pickled apple syrup for sharpness and a mix of gelling agents to mimic the light cloud-like texture of a Ramos Gin Fizz. Charging the drink with a combination of nitrous oxide and carbon dioxide added to this light texture and delicate fizz.
Both drinks put Caorunn at the heart of the serve but presented different aspects to the gin.
We've heard you don't do brands at White Lyan – can you explain your non brand policy and what you look for in gin?
We have our own gin at White Lyan as we wanted to control every aspect of our house cocktails. The selection and blend we took was a juniper heavy distillate with the softness of our mineral content giving a delicate balance, and a series of top note distillates added afterwards to give a brightness and freshness to the gin.
We do however work with brands on a revolving basis – but with a focus to work with brands in a collaborative way like we did with Caorunn at 50 Best – rather than simply to use them generically. At the moment we do a cocktail with Hendrick's which is served from the controlled environment of an enomatic machine where the cocktail is carefully calibrated to suit a certain mood and occasion and is balanced precisely to ensure it is a great showcase of the brand's idiosyncrasies.
Crikey, we'll be right over!
White Lyan is at 153 Hoxton Street, N1 (020 3011 1153 www.whitelyan.com
For a full review go here – http://www.standard.co.uk/goingout/bars/white-lyan-the-bar-with-no-ice-no-fruit-and-no-brands-8871022.html