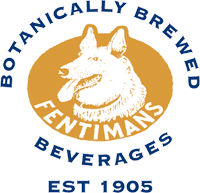 Geraldine Coates takes a look at the boutique tonic water that is stirring up G and Ts.
Gin and Tonic is as quintessentially English as bacon and eggs or tea and cucumber sandwiches. With the sharp piney flavour of juniper balancing the bitter sweetness of tonic it's so perfect a match one would almost think they had been invented with each other in mind. But each half of this iconic partnership has its own quite distinctive story.

Like gin, tonic water began life as a medicine, its principal flavour derived from quinine bark, the well known antidote to malaria. Reputedly it all started in Peru in 1638, when the wife of the Spanish Viceroy, Countess Chinchona, was cured of fever by a local medicine man using the bark of the native 'quina' tree. In gratitude she vowed to make her miraculous healing widely known. On her return to Spain, she took quantities of the bark back to the family estate at Chinchon, outside Madrid. (The town of Chinchon still exists and I am reliably informed boasts a bar where you will be served the best gin and tonic in the world.) The fame of this magical substance that we know as quinine but is botanically named 'cinchona officinalis' in honour of the Countess, spread throughout Europe. Used to cure both Charles 11 of England and the son of Louis X1V, the ground bark became more precious than gold and just as hard to come by. In the mid 19th century the German explorer Dr. Hasskari solved the supply problem by smuggling seeds of the cinchona tree from South America to Indonesia. From about 1867 onwards, cinchona was widely cultivated in Java, India, Ceylon and Jamaica.
Quinine was prescribed to both prevent and treat malaria and the bark was urgently needed throughout the tropics where malaria was rife. The British in India masked the bitter flavour of quinine with sugar and diluted the mixture with water to make it drinkable in the daily doses given to soldiers and other functionaries of the British Raj. It wasn't long before some bright spark realised that gin would enliven their medicine. Thus the ideal sundowner was born.
Surprisingly, because one tends to think of proprietary bottled drinks as a modern invention, commercial production of 'Tonic Brewed Drinks' began in the mid 19th century. In 1858, Erasmus Bond patented "an improved aerated tonic liquid" specifying the use of quinine and other flavouring agents. Considered a health drink, it was so successful that there were soon many brands of tonic water available including Schweppes.
During World War II a synthetic substitute for quinine was developed. After the war, the large companies making tonic water chose to use this cheaper, artificial substance. So today most tonic waters contain almost no quinine or indeed any natural ingredients and the drink's link to its fascinating history has in practical terms almost disappeared. For years we've accepted this without complaint but no longer. There's a huge upsurge in interest in the quality and authenticity of mixers that are used in classic drinks. Partly it's because people care more about what they eat and drink. Partly it's because, as gin ups its game and we understand the craftsmanship associated with premium gin, there's a rebellion against inferior, mass produced cocktail mixers that adversely affect the flavour of the spirit. Step forward Fentimans.
A family firm based in the North of England, the company dates back to 1905 when Thomas Fentiman, an iron puddler from Cleckheaton, lent money to a fellow tradesman and received a recipe for ginger beer as security. The loan was never repaid so Thomas went into business for himself selling his famous ginger beer in stone jars all around the North East. In 1988, Eldon Robson, Thomas's great-grandson took the company back to its roots, literally. By reestablishing time-honoured production methods using original recipes and 100% natural ingredients. In autumn 2007 Fentimans launched the world's first botanically brewed cocktail mixers including traditionally made Tonic Water.
Fentimans Tonic Water is really very special. Like all Fentimans drinks, it is uniquely brewed using centuries old methods. Into large vats are poured the crucial ingredients – an organic grain base, milled quinine bark and lemongrass from Asia, cane sugar (not the saccharin or fructose corn syrup that gives most tonic water an artificial taste) and purified water. The mixture stands for long enough to extract every element of flavour and allow those flavours to marry. It is then pastuerised to stabilise the volatile oils and fix the flavours. There's 0.5% trace alcohol in Fentimans Tonic as a result of the brewing process so it blends with the spirit instead of diluting it. But most important is the taste. Of course it's impossible to know exactly what nineteenth century tonic waters were like but with Fentimans we get some idea of why this drink took the Victorian world by storm. There's a sharpness derived from the bitter woody aromas of quinine bark. The complex herbal notes of lemongrass counterbalance this. All the ingredients including the sugar are 100% natural so there's none of that cloying flat chemical taste associated with mass produced tonic water. Instead a natural sweetness shines through. Because Fentimans Tonic is carbonated for longer it's fizziness makes it more mixable. And the bubbles last longer too.
Fresh and clean in the mouth, Fentimans Tonic Water is a natural pick me up that, on its own, is a grown up soft drink. In a G&T it's perfection. And just in case you've forgotten, here are the golden rules for making the best G and T ever.
---
Fentimans guide to the perfect Gin and Tonic
Always use a good quality gin, keep it in the freezer for extra coldness.
Never use tonic from a spray gun or a bottle that has been standing opened and do not be tempted by diet versions. Keep it simple and use a single serve bottle of Fentimans.
Take a tall glass with a heavy bottom, which makes the bubbles in the tonic, last longer. If there's time, frost the glass in the freezer beforehand. Fill this glass with ice and add a generous measure of gin.
Pour in enough tonic to fill the glass. What you're aiming for is just over double the amount of tonic to gin.
Add a freshly cut wedge of lemon or lime. Stir gently with a teaspoon or a cocktail stirrer. Hmmm, lovely.
---
Fentimans Ginger Beer recipe

Try Fentimans Ginger Beer in this recent creation appropriately named the Midtown Mule which plays on two very popular trends present in the cocktail world – the resurgence of gin-based cocktails as well as the use of vegetables in drinks. The Midtown Mule is a brand new addition to New York's thriving cocktail culture.
Midtown Mule
1/6 cucumber (sliced into coins)
2oz Plymouth Gin
1oz fresh lime juice
1/2 oz cardamom syrup *
1/2 oz Cointreau
Place cucumber slices and cardamon syrup in a tin and muddle into a paste. Pour in remaining ingredients. Shake well. Pour over fresh ice in Collins glass. Top with ginger beer. Garnish with a wedge of lime and 2 cucumber slices in the glass.
* To produce Cardamom Syrup steep 2 tablespoons of black Cardamom pods in hot water with equal parts sugar and water. Steep until flavours are blended. Cool mixture and bottle.
---
Other Fentimans Delights
The Fentimans range also includes Ginger Beer, Brewed Shandy, Victorian Lemonade, Curiosity Cola, Mandarin & Seville Orange Jigger and Dandelion & Burdock, a vintage recipe made with all natural ingredients and finished with Aniseed.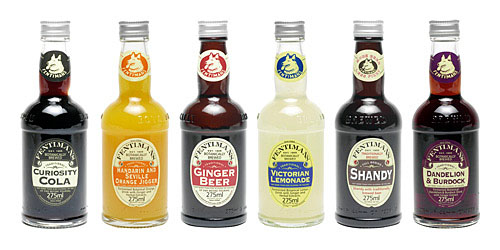 Botanically brewed with Chinese root ginger, Fentimans Traditional Ginger Beer had been voted best soft drink by The Independent. We like it on its own with gin as an alternative to tonic water or with a hefty splosh of Rose's Lime Juice garnished with a lime slice in a drink once known as the Fog Horn. Fentimans Curiosity Cola is another welcome addition to the cocktail world. Think of any drink with 'n' Coke in it and Fentimans instantly gives it a cleaner, crisper taste.
---
Fentimans Stockists
In the United Kingdom buy the full Fentimans range on line at www.realfoodirect.co.uk or call Real Food on 0870 044 4555. Also at Booths and Waitrose supermarkets and at selected delis and good food and drink shops. Check out the Store Finder at www.fentimans.com for your local stockists and bars serving Fentimans.
In the USA contact USAsales@fentimans.com for stockist info.