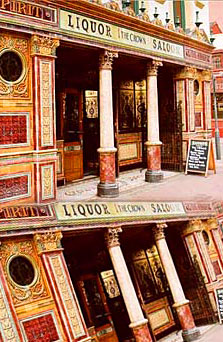 In the 19th Century the consumption of beer was actively encouraged as a counterpart to the gin mania of the previous century. By 1836 there were 56,000 licensed beer shops in England and Wales.
Many of these were ramshackle dives and magistrates demanded improvements before granting and renewing licences. To make these improvements their landlords often borrowed money from the big brewers, promising in return to buy supplies exclusively from them. And so began the 'tied house' system. By 1816 half the public houses in London were tied, and brewers were building new, more up-market premises intended to draw in the passing trade. The gin shops were desperate to compete and the first gin palace appeared around 1830 shortly after the passing
of the Beerhouse Act that gave retailers of spirits more freedom.
The gin-shop of the Georgian age had been a murky, smoky hovel whilst beer-shops were cosier places quite like old-fashioned country pubs today. Gin palaces were something else again. They were not designed to be a home from home but rather an escape from home. They were comfortable, equipped with all mod cons like gas lighting and plate glass windows and staffed by young, attractive women. No longer just drinking dens they were places of glamour and excitement where the daily drudgery could be left behind. Soon gin palaces sprung up in all of British industrial cities. They were fantastically popular.
Many gin palaces survived in all their glory until well after the Second World War. Sadly lots of them were destroyed in the 1950s and 60s. However there are still a few survivors such as the Café Royal in Edinburgh, the Horseshoe Bar in Glasgow, The Crown in Belfast, The Red Lion in Duke of York Street and the Salisbury in St. Martins Lane, both in London. If you're ever in an old pub with elaborate tiling, fancy stained glass, ornamental woodwork and elaborate carving you can be pretty sure that it was once a gin palace. And, please share your discoveries with us.