At Gintime towers we're utterly devastated our invitation to the Royal nuptials has clearly been mislaid by Her Majesty's own postal service. Never mind, we will have to toast Prince William and Princess Catherine's health with afternoon tea and a teapot full of gin punch. After all, this wedding isn't just for the Royal family, it's for the whole nation to feel part of!
What better way to enjoy Hew Edwards' simpering commentary than with dainty sandwiches and cream laden scones? As we round off our elegant feast with coconut fancies we'll surely reflect on the dear old Queen Mum who sadly won't be there in the flesh but surely in a Dubonnet haze of spirit. Her radiant smile will be beaming down on us all, her ever-loyal subjects, Gawd bless her!
---
The Sandwiches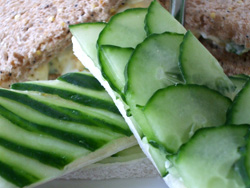 As you can see we've opted for open cucumber sandwiches to reflect the very modern nature of this Royal romance. The cucumber is clearly a symbol of fertility and by eating one on the day of the Royal Wedding you will be demonstrating your patriotic desire for the newlyweds to go forth and multiply more royal family members that we the Great British Public will surely delight in paying for.
Method: cut the cucumber into thin rounds and long strips, layer on slices of white bread and trim the crusts off. Finally cut into finger shapes and sprinkle lightly with salt and pepper.
Other sandwich ideas are rare roast beef and horseradish, duck egg mayonnaise with fresh basil, hot smoked salmon with lemon and tarragon crème fraïche.
---
The Scones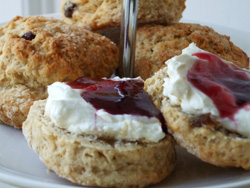 These spiced scones are a tribute to the racy beginnings of this very contemporary couple. Serve with freshly whipped double cream and a tart jam such as raspberry or blackcurrant. There has been some debate on whether it's cream first then jam on top or the other way around. Her Majesty the Queen prefers to slap a dollop of the creamy stuff on her scone and spoon the jam on top, whereas Carol Middleton insists on jam then cream. Just sayin' …
Spiced Fruit Scones (makes about 12)
400 grams Self Raising Flour
Teaspoon each of cinnamon, allspice and ground ginger
Pinch sea salt
80 grams butter
50 grams unrefined castor sugar, plus extra for sprinkling
2 eggs
200 ml milk
60 grams mixed sultanas and raisins
Pre-heat the oven to 180°C/gas 4. In a large bowl mix the flour, spices and sea salt then rub in the butter. Stir in the sugar. Beat the eggs with the milk and form a well in the dry ingredients, then pour in all but one tablespoonful of the egg/milk mixture. With your hand, work the wet ingredients into the dry until they form soft dough. You may not need to use all the liquid. Turn out onto a lightly floured work surface and roll to a two-inch thickness. Take a cutter and cut out some shapes of your choice and place on a greased baking tray. Keep reforming and rolling the dough then cutting out shapes until you have none left. If you don't have a cutter you could simply cut it into squares. Using the leftover milk and egg mix, brush the tops of the scones with a pastry brush (or rub a little on with your fingers) and sprinkle a little sugar on the top of each. Bake for 20 mins until risen and golden.
---
The Cake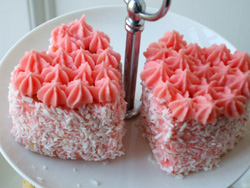 A Royal afternoon tea wouldn't be complete without some Victoria Sponge. No doubt the late Queen V will be at Westminster in some form of divine spirit, looking down at the likes of Elton John and David Beckham from on high and glorying in how very 'of the people' the monarchy have become. Gawd bless her!
These pink, garish treats are homage to Princess Catherine's humble beginnings. Indeed, we have it on good authority that Malibu is the spirit of choice in the cocktail cabinet of Marlborough's sixth form common room.
Coconut and Lime Fancies (Makes about 12)
For the cake:
2 medium eggs
Same weight in butter, vanilla sugar and self-raising flour
2 tablespoons desiccated coconut
Preheat the oven to 180°C/gas 4 and grease and line one baking sheet. Cream the butter and sugar until it is pale and fluffy and add the eggs one at a time beating in well before adding the next (should the mixture begin to separate, add a dessert spoonful of the flour and continue to beat like mad!) Sift in the flour and add the coconut and fold in to the batter. Spread the mixture onto the baking sheet and bake for 10 mins, or until risen and golden. After baking, allow the cake to cool. With a heart shape cookie cutter cut the sponge into hearts.
Lime Butter Icing
3 oz butter
6oz icing sugar
Lime juice
Desiccated coconut to decorate
Beat the butter until soft and creamy. Beat in the icing sugar and add enough lime juice until smooth and creamy.
Make sure the sponge is completely cool before spreading a little icing to sandwich two shapes together. Then spread a thin layer of icing over the sides of the cake then roll in desiccated coconut to decorate. Pipe small rosettes on the top of each cake with the remaining icing.