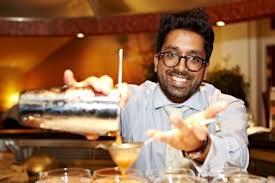 Ryan Cheti is one of Gintime's favourite people. And he's a great bartender with more awards than you can shake a stick at under his belt. So the perfect candidate for some hot tips on the current bar scene.
How did you get into bartending and is it a route you would recommend? 
I actually initially began training as a chef. During a break after school and before I was moving to art college in London, I wanted to work with flavours as I had grown up around a pastry chef and a foody upbringing. Training as a chef seemed perfect and although the training was good, the practicalities didn't fit me- you were tucked away in the back with no means of interaction or customisation. It felt very unnatural to me so a friend suggested the bar. I instantly felt at home.
Where's the best place you've ever worked?
Bramble, Edinburgh. It's still my favourite bar in the world. It just gets it right- great music, genuine passion and innovative drinks. Mike and Jas are good friends so it was great to work there.
Tell us about your favourite UK bars and why?
The aforementioned Bramble of course and also the Bon Vivant in Edinburgh too, but I have a lot of love for London at the moment. It has a brilliant energy about it and the scene is fantastic. There's so many bars that cater to different occasions- Happiness Forgets, Callooh Callay, Lounge Bohemia all cater towards fun, then there's Purl and Nightjar for making friends feel special or The Savoy, Connaught, Artesian for pure decadence… So many choices! Outside of these I've had great times at Santa Chupitos in Liverpool and Socio Rehab in Manchester.
And your three best international bars?
Bar High Five in Tokyo is very special to me, and Ueno San is such a fantastic host and bartender. I also love PDT and Little Branch in NYC as Jim and Mickey have looked after me fantastically at their respective places. Thirdly I'd pick La Capilla  (NYC counts as one!) in Mexico. Simplicity at its best.
What's your favourite gin cocktail?
A wet martini (3:1) with an olive and a twist (I'm greedy).
Why do you think gin is on such a roll?
There are so many interpretations of juniper that the range of gins out there cater to different drinks, and therefore occasions so well. It can be a clean drink, or it can run all the way through to rich and decadent. People are starting to embrace its history and versatility. Long may it continue!
If you were going to make me a cocktail what would it be?
A Flamingo. Gin, lemon, apricot brandy and grenadine (the proper stuff). It's adult enough to provide a complex and sophisticated drink, but it is approachable so doesn't alienate anyone. Daisy style drinks are good for many moods too so without knowing too many details, it's a good drink to make anyone.
Who would play you in a film?
Christopher Walken!
Favourite place and favourite food in the world?
So many! I love the culture of eating in Spain; a big group of friends, sharing food, long dinners and wonderful sherries.
Tell us what's next?
As much as I can muster! I'm trying to do as much as possible to expand my output within the industry, but you can expect me to working very hard at it all.
They say it's the end of the world soon, what would you do if it were tomorrow?
Get lots of friends and family together, open all my prized booze and have a great old feast. And do nothing you'd regret – even if it is the end of the world!