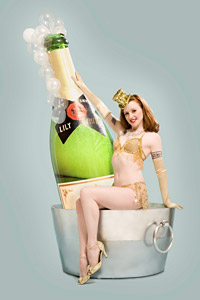 Miss Lilly White shares her secrets with Miss Martini
Describe the atmosphere of one of your Burlescapades evenings.
I started Burlescapades because there was nowhere in Edinburgh where grown-ups could get really dressed up, enjoy champagne and cocktails, and see a fabulous full-length cabaret and burlesque stage show followed by dancing the night away. I love the nightclubs you see in old Hollywood films, and wanted to create something along those lines.
What's your favourite cocktail?
It would have to be a White Lily, of course! Preferably made with Hendrick's Gin, it's a huge favourite of mine.
You are obviously very glamorous, can you define what glamour means to you?
For me, it means making that little bit of extra effort to look good all the time. If I was to slob around in jeans, I'd feel sloppy and low-energy, but when I wear a great vintage outfit I feel fabulous!
Who is your style icon?
Rita Hayworth is the ultimate 1940s goddess. Sexy, sophisticated, and super-stylish.
Describe your perfect evening out.
Cocktails, followed by dinner at an intimate, romantic restaurant, and then dancing until the sun comes up in a vintage ballroom to a 25-piece big band.
And who would be your date?
Rufus Sewell would be nice.
And which fictional character would you most like to spend an evening with?
Rhett Butler – rakish, charming, well dressed, and clearly up for a devilishly good time.
Who would play you in a movie and why?
My friends insist that Nicole Kidman based her role as Satine, in "Moulin Rouge," on me, and she's a fabulous, feisty, burlesque redhead.
Do you have a favourite film?
Ever since I was a child it's been, "Gone With The Wind." Scarlett is just so glamorous and yet so strong. And I think the scene where Mammy laces her into the corset had a definite influence on my future career.
Describe your signature act

My Champagne Bubbles routine – I appear onstage, perched on a giant silver ice bucket containing a six-foot bottle of Champagne, with balloon bubbles cascading down the side and over my golden Swarovski crystal-embellished body. I toast the audience, then perform a classic balloon-popping striptease in a cloud of gold glitter.
Do you have a favourite bar?
The Voodoo Rooms in Edinburgh, and the Black Gardenia in Soho, London.
Tell us something surprising about yourself
I have a degree in Equine Studies.
Why do you think Burlesque has become so popular recently?
People were craving more old-fashioned glamour and style in their lives – this, combined with a move away from clubs to live entertainment, created an atmosphere where cabaret and burlesque have flourished. Women, in particular, love burlesque because the performers are real women of all shapes and sizes – it's a backlash against the ridiculous notion that you have to be a size 10 with huge breasts to be sexy.
Any advice for aspiring Burlesque stars?
Find something that makes your act original and different. Just like they say in the musical, "Gypsy," you gotta have a gimmick if you wanna get ahead!
Who in your industry do you most admire?
Dita Von Teese has done so much to bring burlesque into the mainstream and to a wider audience. When I started performing, no one knew what I was talking about when I mentioned burlesque – now it's massive. She's also very classy and elegant – a real credit to the art of striptease.
How can everyone bring a bit of Burlesque into their lives?
Burlesque is all about the tease, rather than the strip – it's what you don't see but is hinted at that makes it enticing. So try to bring a hint of mystery to your everyday life – come along to Burlescapades and see how it's done!
I've got an hour to get ready for the hottest date of my life! Give me some tips so that I can look my sexiest, most elegant best.
Two words – heated rollers! They are the quickest and easiest way to create vintage glamour. Then slick on some black liquid eyeliner, lashings of mascara, and Russian Red lipstick and I guarantee you'll feel like a real old-fashioned femme fatale. And wear some wonderful lingerie – stockings, NOT tights!
And some advice for the gentlemen please? How can they achieve a bit of old Hollywood style glamour and sophistication?
Every man should have at least one great suit – you know it's a great suit if it makes you feel like James Bond.
White Lily
30 ml Hendrick's Gin
30 ml white rum
30 ml triple sec
2 dashes anisette
Combine all into a shaker, strain into a chilled cocktail glass.
Other sites