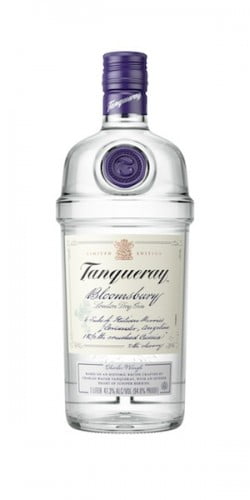 Whisky connoisseurs are very familiar with the idea of limited edition bottlings and new expressions from respected distilleries. The fact that we now see them coming from gin distillers is yet more proof, were it needed, that this once neglected iconic white spirit has regained its previous status as the spirit of the sophisticated.
Following on from the success that Beefeater London and other major brands have experienced with their special bottlings comes the latest limited edition launch from a revered name in the world of gin – a new Tanqueray expression, Tanqueray Bloomsbury Gin. And what's particularly nice about this is that it was created by renowned Master Distiller Tom Nichol on the eve of his retirement – a retirement present in reverse one might say.
Tanqueray Bloomsbury is based on a historic recipe created by Charles Waugh Tanqueray who took over his father's business following his death in 1868.  The new gin bottled at 47.3% ABV celebrates Charles' innovative spirit and pays homage to the early years of the Tanqueray distillery when it was located in the Bloomsbury area of London. Strong in juniper flavour with clear notes of cassia bark, the luxury bottle design features a signature marque with the initials of Charles Waugh Tanqueray on the label.
Tom Nichol, former Master Distiller at Tanqueray, explained his thinking: "I wanted to make something that was completely different from our other limited editions and with this gin I do feel we have achieved that. It is very inspirational to work with an original Tanqueray family recipe, and for it to taste this good."
To celebrate the launch of Tanqueray Bloomsbury Gin there is a collaboration with The Bloomsbury Hotel in London to create a bespoke Bloomsbury gin-infused menu and a series of interactive cocktail masterclasses. These have been developed by Tanqueray Brand Ambassador, Tim Homewood and The Bloomsbury hotel's Head Bartender, Joel Miguel, and will be exclusively available at the hotel for a limited time only, from October. Check out doylecollection.com/bloomsburyhotel for details.
Watch out for Tanqueray Bloomsbury hitting shelves this September – at a RRP of £41.00 for 1 litre it ain't cheap but then perhaps one can't put a price on a piece of history.