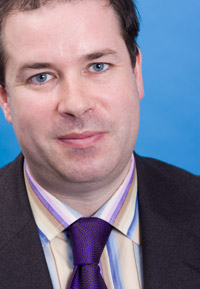 Nick Blacknell, Beefeater Brand Director, gives Juliet Lawrence Wilson the low down on Cowboys, Marilyn and his iconic brand.
"It's not a question of there being too many, more like there still aren't enough!" Some would be tempted to cast a wary eye over what could understandably be perceived as the Johnny Come Latelys of the emerging Gin brands but Nick Blacknell welcomes the competition. "Gin has lagged behind other spirits categories for too long," he adds. "More consumer choice is good for everyone and people are starting to enjoy the high end of the market. It's wonderful that you can pick a classic gin or try something new with modern ingredients."
Blacknell can afford to be generous. The director of a brand that has been around since 1820, and uniquely still made in London, is fresh from the San Francisco Wine and Spirits Fair where Beefeater won the Double Gold Award: the highest standard in the toughest competition in the world. "It doesn't get any better than that!" he laughs.
It is instantly apparent that Blacknell isn't just passionate about Beefeater but the drinks industry as a whole. Starting out as a barman he was lucky enough to have a boss who one day opened up a cracker of a Cotes du Rhone: "The landlord was really into his wine and told me all the stories about the grapes and the vineyard. There's something so romantic about wine, the connection with the soil, the small growers and the fact that everything is evolving, you can never get bored with it."
I can't help but think Blacknell's first whiff of splendid plonk is on a par with Harry Potter discovering a little thing called magic. Luckily he is equally smitten by the spirit world: "Artisan spirits and high end gins share a lot of values with wine and surprisingly to many outsiders most of it is handcrafted. The spirits industry is a more dynamic, exciting world."
Despite his teenage tipple being gin and lime, "You'd call it a Gimlet these days, except I drank it on the rocks, it was quite sophisticated, really," excellence is something he seeks and makes a point of finding.
Dick Bradsell, Blacknell's favourite mixologist, works in the Colony Rooms, an old artist's club in Soho, whose walls are adorned in arguably the best art collection in London. "If I was to share a cocktail with anyone it would be Dick and we'd have a Cowboy Martini." This aromatic concoction is one of Dick's reinvented classics. Beefeater, fresh mint and a tiny amount of sugar syrup are shaken vigorously until the gin is infused with the colour and flavour of the mint resulting in a light, fresh martini, the dash of sugar giving it a rounded but subtle edge.
Blacknell's love of his brand owes more than a nod to tradition. Desmond Payne, Beefeater's master distiller who has worked on just about all of the great UK gins, is one of the people in the industry Blacknell admires most. "After 40 years as a distiller he's still passionate about what he does and has an interest and understanding about getting the flavours just right – like a great chef he has magic. He's a real artist and for someone so talented, a humble man."
Blacknell's sense of style, like Beefeater, is essentially English, "Something must be incredibly good quality but slightly understated to be truly stylish," he explains. This may account for the luxurious but slightly eclectic style of the bar at the distillery, used to entertain press and trade, which features original distillery features sitting alongside opulent, luxurious fittings and rounded off by a horseshoe bar inspired by the one in London's Mandarin Oriental. He is also a partner in the Bedford and Strand in Covent Garden which features home cooking, esoteric wines and naturally Beefeater as their house pour.
If one London icon wasn't enough for this classic gin, Beefeater has a fleet of 25 branded hackney cabs. "I love the cabs!" Blacknell enthuses, "Your journey is rounded off with a recipe on the back of your receipt, from places like The Lonsdale, Match and The Hawksmoor. Its good for us and the bars."
Despite his love of Beefeater's heritage, Blacknell embraces the new and admires many of the UK's upcoming mixologists. "Nick Strangeway from The Hawksmoor is doing fantastic things with gin. At the moment he recreates Victorian punches which taste delicious and are visually stunning with fresh fruit and flowers in them." These are served in a punch bowl with six glasses, "It makes drinking a very sociable experience."
So with the bars of the world at his feet, who would be Blacknell's ideal gin date? "Marilyn Monroe," he says without missing a beat. But before we consider him to be predictably attracted to pneumatic blondes: "Beefeater Martini was her favourite drink. I recently read that in the New York Times," he says proudly.
Blacknell's the kind of fellow with whom one could spend an eventful night out. "Bars? I've been to them all!" Yet, it's his passion for quality that makes him interesting and he's obviously too in love with all things gin to consider using sterile phrases like 'brand message' to describe his beloved Beefeater.
I decide to test him. Your starter for ten, Nick: give me five words that describe Beefeater. "London classic since 1820 – and that's five words." Nick Blacknell? As dry as Marilyn's martini and twice as elegant.