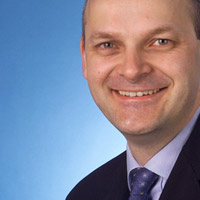 Sean Harrison is in charge at the UK's oldest Gin Distillery and is savouring every moment. Juliet Lawrence Wilson meets him.
Imagine being given a secret – a big one! Since 1793 only a handful of people have known the Plymouth Gin recipe, so I ask Sean Harrison to set the scene when outgoing Master Distiller Desmond Payne revealed the formula. What ceremonial niceties were involved? An oak panelled room, a rolled up trouser leg? Maybe a sacrificial goat? "Its all on a piece of paper," says Harrison. Parchment? "No. An excel spreadsheet, actually."
Perhaps such an unromantic document was fitting for Harrison's swearing-in ceremony. A self-confessed "gin geek", he doesn't believe he has a 'gift' for distilling but considers himself to be a man who learned his trade diligently: "I'm very fortunate. I came out of the Navy and applied to be the assistant manager of the distillery and it went from there. I was incredibly interested and prepared to learn."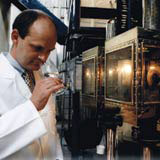 "Being able to repeat what you have found and knowing what to look for in the ingredients are the two basics," he says, "Making gin is a bit like cooking. I'm not a great cook but I'm learning mixology and finding that very interesting. I'm no expert yet but doing my job and being in touch with my smell and taste senses is an advantage."
Harrison was first introduced to cocktails ten years ago by his mentor Desmond Payne, (now the Master Distiller of Beefeater Gin) "He made the same cocktail with different gins to demonstrate their characteristics. A mixologist has to understand each gin to be able to balance a cocktail. Plymouth is very user friendly to mixologists as it has an earthy note and a lemon and orange side, so its easy to work around."
Harrison laments the loss of ability amongst most people to identify tastes and smells. "It's all down to sell-by dates, people are simply less used to strong smells. Yet everyone has over 10,000 smell and taste receptors so we all have the ability to be a skilled taster."
Harrison tells me that there is a standing joke in the distillery that one day someone will come up with a juniper flavoured vodka. "But there's more to making gin than vodka, the flavour is distilled into the spirit rather than just added at the end." Does he rate any of the new vodkas on the market? "I've absolutely nothing more to say about vodka!"
Harrison favours his martini stirred but sees a place for the shaken too: "If you are new to a martini and scared of the concept I would ask barman to shake it as it dilutes it more, but stirring retains more flavour. A vermouth has to be one I would want to drink straight like Lillet for a more fruity martini and Vye, a vermouth from California, for a dryer one."
Plymouth is rated as being the key ingredient of the first ever martini recipe in the charmingly named "Stuart's Fancy Drinks and How To Mix Them" cocktail book, published in 1896. A tasting panel in New York, including Alan Cats from the Slow Food Organisation and Audrey Saunders from the Pegu Club, recently voted a Plymouth Martini the best out of 80 competitors. So what's Harrison's take on the competition? "All gins of a 100 years or older are distinctive in style so Tanqueray, Beefeater and Booths, for example, are different gins that suit different tastes, but the new boutique style gins have learned the lessons of old and are pitching themselves somewhere in the middle."
Harrison doesn't see himself making any new gins: "I genuinely believe I could never make as good a gin as Plymouth, only a different one, so I'd much rather do something different with a base gin. I enjoy making sloe and damson gins and our fruit cup. It would be nice if the concept of punch comes back into fashion." He makes a trip to the US every year, "Just to say hello!" and launched Plymouth Sloe Gin to the bar trade there this year. "In the States their concept of Sloe Gin differs from ours and doesn't have a great image but bartenders have been asking for it so we've done a restricted distribution and had an amazing reaction."
Despite having a global shopping list Harrison does less travelling than you might think. "All the ingredients come to us and the challenge is to find the right ones for Plymouth's characteristics. We will try up to 25 different types of orange and lemon each year." Plymouth's juniper usually comes from Italy or Yugoslavia and other ingredients of cardamom, orris root, angelica root and coriander from Russia and the Middle East. "We tend to go back to the same region but our main concern isn't where the ingredients come from but how they work for us."
Perhaps because Harrison isn't a big drinker he is picky about the bars he chooses. "I take one look at the back bar and if its full of cheap spirits I'm off to somewhere better." What does he think about the new Plymouth branding? "I like it. The bottle is great and reflects the light but the most shocking thing is that gin bottles must be between 1900 and 1930s in way they look and you can't use too much silver or people will think it's a vodka." And we wouldn't want that, would we?
So where would Harrison's chosen gin den be? "The bar at the Distillery – its the best in town!" Plymouth's bar is a bit like a private members club but the joining criteria isn't who you know, more how interested you are. "Anyone can walk in and join but you have to come back six times in ten weeks to become a member. It is somewhere to savour your cocktail and relax. Because it's in a building that's 600 years old it has a very distinct atmosphere. There isn't a bar like it in Britain."
What would his cocktail of choice be? "If I was going out to eat afterwards I'd have a sloe gin fizz but if I was drinking for the evening I would start with a Martini because I like to savour it and not be rushed." And who would his ideal gin date be? "Dorothy Parker, she was a gin lush! I like her ode to the martini, "I love a martini – but two at the most. Three I'm under the table; Four, I'm under the host."
Harrison doesn't see himself passing over that mysterious excel spreadsheet anytime soon. "I'd like to do this job forever!" Let's hope he uses some of that time to think up an interesting ceremony for the occasion and – given Plymouth Distillery's Monastic heritage – surely monks' robes, some dry ice and a sacred chalice can't be too hard to come by…